We all know the benefits of reading and it's a well known fact that people all over the world struggle to increase the number of books they read and the amount of time they spend reading. We seem to live on fast forward most of the time and we tend to miss out on quite a lot of important aspects in life, favoring others who bring us no benefit. 
Those of us who still find time to read know that using modern technology to improve this centuries-old habit is a great idea. And since the time we spend "between" books is valuable, using a book tracker brings huge benefits and this is where the Notion book tracker steps in.
But is it really the best option?
What is the Notion book tracker?
Let's start with the beginning and clarify what Notion actually is. Notion is a productivity tool which is generally used for task management and note-taking. It is one of the most flexible and popular tools and it allows users to customize their personal boards as they see fit. Moreover, public board templates can be downloaded and used by others as well.
The Notion book template comes in several forms with different purposes, such as book tracking, reading list creation or book annotating. There are several Notion book management templates that can be downloaded and used for free, but our main focus is now on the book tracker.
The Notion book tracker is basically a digital solution for keeping track of the books you read or want to read. You can use it to organize your reading, mark the books you've read as finished, the ones you're currently reading as ongoing "projects" and fill the board with books you want to read in the future.
How does the Notion book tracker work?
First of all, in order to be able to use the book tracker, you will need to register an account with Notion. Once you did that, find the book tracker template and simply duplicate it to your own Notion board.
As soon as that is done, the book tracker becomes available in your Notion and you can start editing it in order to personalize it. You will be able to add book titles to your to-read list, move them from one status to another according to how you want the reading process to be organized (to-read, reading, read – for example).
Not only that, but you can customize the way the board looks and works to a certain extent, manually set yourself reading goals, write quotes and populate your virtual bookshelf with books you want to read or have read.
Notion book tracker advantages
1. (Almost) Free and customizable
One of the biggest advantages for Notion users is that the platform is free for personal use. Some templates however will need to be paid for in order to become a part of your personal Notion.
The fact that the boards are fully customizable means that every user can take the template and adjust it as they see fit in order to make it as useful as possible.
2. Stable and user-friendly
The platform is stable and relatively easy to use. It can be a trustworthy partner for those who get accustomed to it and use it regularly.
3. All-in-one solution
Any member can have an unlimited number of boards, each with its particular purpose, which means that for many people, Notion can be a one-stop shop for all matters that require organizational activity: work, chores, reading and pretty much anything else you can think of.
Notion book tracker disadvantages
1. Gives users too much freedom
All this freedom to adjust everything comes at a price. There is such a thing as too much freedom and any writer sitting in front of a blank piece of paper can confirm how terrifying it is.
Because users are allowed to pretty much change everything on their Notion book reading template, many of them will end up wasting a lot of time until they find the structure and the format that is ideal for them.
2. It's not that easy to set up
Every downloadable template comes with dummy data which needs to be manually removed and replaced with the things the user actually needs.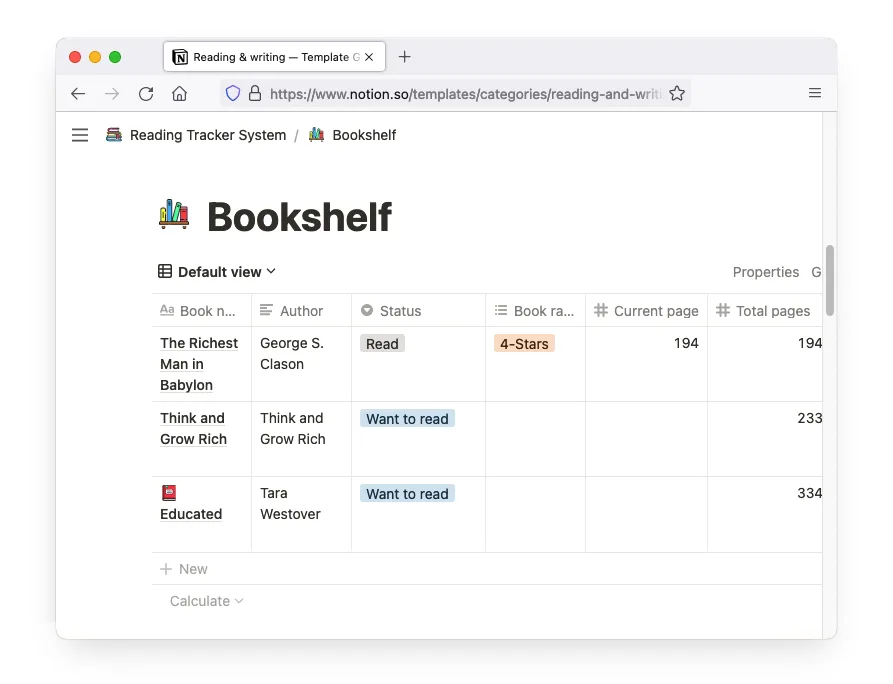 Again, this can take quite a while, especially for a first time user and as we agreed from the very start of this article, nowadays time is of the essence.
3. Missing automatic features
Compared to an average reading app, Notion also comes up short when it comes to automatization.
While reading apps can, for example, help you keep count of the time you spend reading or the number of pages read every day automatically, in Notion all this data needs to be entered manually.
There is no data counter, no statistics are being generated. A lot is missing.
4. It can't hold a candle to any dedicated reading app out there
Another disadvantage comes from the fact that Notion was created and designed with a different purpose in mind, and it shows.
While we hold nothing against the Notion book tracker and understand its limitations, we can't stop but think what alternatives are out there?
What is the best Notion book tracker alternative?
First of all, it's important to know that Notion has quite a lot of decent alternatives. While other note taking apps can also be used as an alternative for Notion, reading tracking apps are by far a better choice.
And while there are several on the market at the moment, the one that is the best choice, having more features than you can imagine, is Basmo.
If you've ever discovered a thing or a device that makes your life so much easier that you are suddenly unable to understand how you managed to live without it all your life, this is the exact feeling you will have after using Basmo for the first time.
While Basmo has a relatively short history compared to other options out there, it comes fully packed with features and useful gimmicks for all book lovers. It was built with a lot of love, attention to detail and with you, today's reader, in mind. And it shows from the very first time you open the app.
How is the Basmo book tracker better than the Notion book tracker?
First and foremost, Basmo is a dedicated reading tracker app, which means that it was designed to help book enthusiasts take their hobby to a whole new level. When compared to Notion, the first thing that stands out is how easy to use the app is.
Here's a couple of the features that make Basmo a much better choice than Notion when it comes to book tracking.
Basmo requires no additional setup
While Notion requires some knowledge and a couple of tweaks before you can actually start using it properly (organizing the boards manually, deleting dummy data, populating the boards with notes and tasks), Basmo is fully set up the second you download it on your mobile device. As soon as you access the app, you can immediately start using it.
There are no additional features that need to be downloaded later, everything is already at your fingertips and you have nothing else to worry about other than focusing on your reading.
Reading lists are much easier to compile and use
Basmo comes with a predefined set of book collections which can be populated (or that are automatically populated as you read books). These lists can also be customized, or new ones can be created on top of the predefined ones, which means you can even create separate lists for different genres or by author.
Moreover, the lists are much more easy to configure with Basmo than with Notion. The benefit of having a dedicated reading app translates into a better user experience for a book lover.
Tracking your reading has never been easier
Basmo allows you to keep track of your reading from the moment you choose a book to read until you finish it. All your reading sessions will be recorded with just a few taps, you will have access to interesting stats about your reading and your collection of read books will increase automatically as you mark novels as finished.
As soon as you buy a new book to read or simply pick up an old one from your bookshelf, all you need to do is search for it by name or author in the Basmo app, tap on it and start a reading session.
This will automatically add the book to your "currently reading" collection and the app will start tracking the time you spend reading, also calculating the number of pages you read in each session (it can be manually adjusted if Basmo's estimate is wrong- spoiler alert: It rarely is). A bookmark can be added after each session so the next time you start reading it will be a lot easier to pick things up exactly where you left off.
While all that can also be done with the Notion book tracker template, none of the steps is automatic. You will need to add the book manually into a note and drag it manually to the "currently reading section". Not only that, but if you want to keep track of your reading activity and your progress towards the end of the book, all that will need to be done manually as well.
Basmo allows you to scan pages
By using the page scanner in the Basmo app, you can either save images of the pages you loved the most or extract the text and save it as a note. Alternatively, you can use the scanner to save quotes, by extracting just the relevant text from a page you scan.
Save and format your quotes
You can even use a specially designed quote editor feature, which allows you to format the text you extract from the book either keeping it as a note, or by turning it into an image using predefined templates or personalized ones. These can also be easily shared on any social media platform.
You will be a much better organized reader
Basmo comes with a series of features meant to help you become more organized. Here's what you get.
Reading schedule: you can set the days of the week you want to read in and separate time of day for each, so you can create a reading schedule that revolves around your daily routine.
Gentle reminders: you will be reminded of each scheduled reading session with push notifications on your smartphone
Reading goals: you will be able to set realistic goals for your reading. You can either choose a larger scale goal for the number of books you read in a year or a daily goal for the time spent reading.
Reading statistics: whether it's your reading speed or the progress you've made towards reaching your reading goals, Basmo will provide you with interesting insights of your reading habits.
Conclusion
While Notion has been a breakthrough in its own way and impressed internet users over the years in many different ways, when it comes to using it as a book tracker, it holds nothing against a dedicated reading app like Basmo.