Make Your Books Come Alive
With ChatBook
Harness the power of AI and use the Basmo ChatBook to skyrocket your reading experience. Chat with your books, ask for additional details or summaries, and go beyond what reading meant to you until now.
Achieve the Unthinkable With AI
Using the power of artificial intelligence, you can now have a real chat within any of your favorite books. Whether you want to ask about particular details of the plot, get book recommendations from the AI chatbot, or simply use ChatBook to read books differently, you're definitely in for a treat!
Chat With Your Favorite Authors
Use the power of AI to have a conversation with the authors of your favorite books. Ask questions, gain insights, or even ask for recommendations.
Get Ai-Powered Book Recommendations
Take advantage of the latest technological developments and let them cater to your book-finding needs. Wasted time is a thing of the past.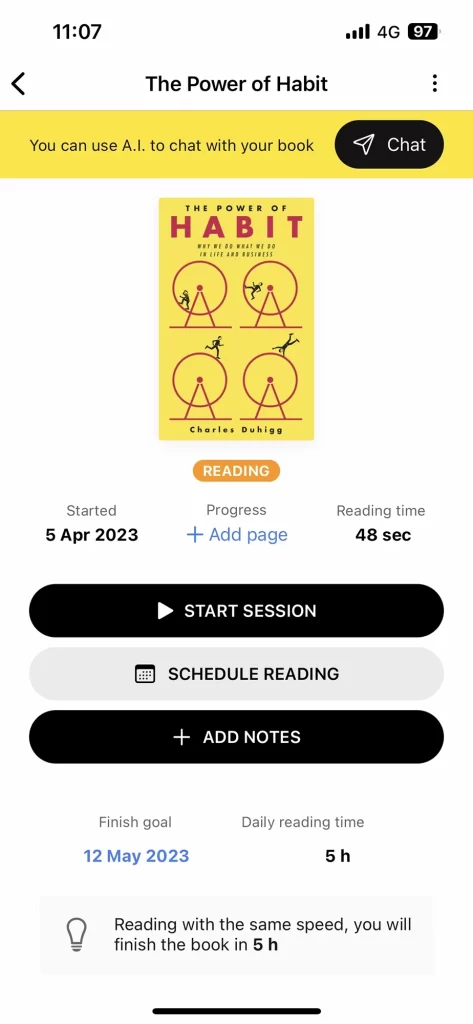 Understand More Than Ever Before
With the unlimited power of AI at your fingertips, you can ask any question you can think of and therefore gain a much deeper understanding of what you read.
Talk or Chat, It's Your Choice
Our ChatBook comes with the added benefit of being voice-enabled as well. Whether you prefer actually speaking or typing your prompts is entirely up to you.
Language Barriers Are a Thing of the Past
You can use our BookChat for reading books in their original language. You no longer have to worry about the languages, our chatbot provides instant translations to and from any language.
Manage Your Emotions
Use the AI ChatBook to better understand how a book is going to make you feel and how it will influence your emotions. All you have to do is ask and our chatbot is going to provide you the proper insights.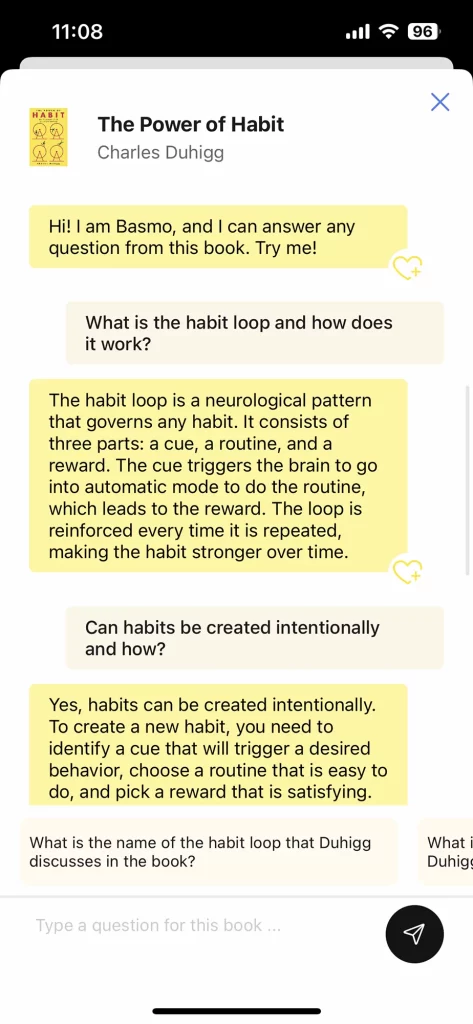 Enjoy Your Personal Reading Coach
Use the AI BookChat to gain insights into your reading performance and the most accurate tips and tricks on how to improve your form.
Book Summary With ChatBook
You can now use ChatBook to summarize a book. Whether you want to use this to decide whether you should read a book or for something else, our AI chatbot will help you in mere seconds.
How You Can Use Basmo ChatBook
There are no limits to what our AI ChatBook can do to help you develop better reading habits and improve your understanding and overall performance. Enjoy the new limitless reading experience with Basmo and your personal AI chatbot.
Open the Basmo app
Tap on any of the books in your collections
Tap on the banner on the upper side of the screen – Chat
A new window will open and you can now start typing to get in touch with ChatBook
Enjoy the ultimately revealing reading experience
ChatBook will completely change the way you read and how you enjoy and extract value from the experience. Each reading session will be a uniquely wonderful experience if you choose to take advantage of everything AI can offer.
Get Immersed in the Future of AI Reading
Enjoy the power of AI at your fingertips and experience reading like never before. Chat with your books and enjoy invaluable insights that have never been available before.