For us, the passionate readers out there, books are our most prized possession. We take great pride in our book collections and we love taking great care of them. Of course, sometimes, that is easier said than done. We don't always have the time or the energy to put our books in order and as soon as one is out of place, the whole thing quickly becomes a complete mess. That is why apps to catalog books are a necessity for any book lover out there.
Since here at Basmo we want to support you regardless of the actual aspect of your reading habits you are looking to improve, we compiled a great list of the best book organization apps out there so you can choose whatever feels right for your needs.
What are the book inventory apps?
A book inventory app is, as the name suggests, an app you can install on your mobile device, whether that is a phone or a tablet, with the purpose of enhancing the way you organize your book collection. Whether that is a physical collection you are trying to put in order and keep track of or an e-book library you want to be able to easily access and manage, book inventory apps are definitely the way to go.
What are the best apps to catalog books?
Your journey to finding the best app to catalog books might be a quite difficult and daunting one. Here at Basmo, we believe that everything goes a lot easier and smoother with a little professional guidance. That is why we did our due diligence and created a list of the most useful apps to organize books, so you can choose the one that seems to match your preferences.
Basmo is a reading tracking app at its core, so it comes with a plethora of functionalities I will explain below, but it also offers you the possibility to create and organize your book inventory easily and efficiently. Through the reading list feature, you can easily create a separate list of the books that are currently in your collection. The reading lists are easily customizable and you can create as many as you want. If you create one for your book collection, you can simply search within it every time you want to buy a book, you can add or remove titles easily, and that way you can keep it always updated.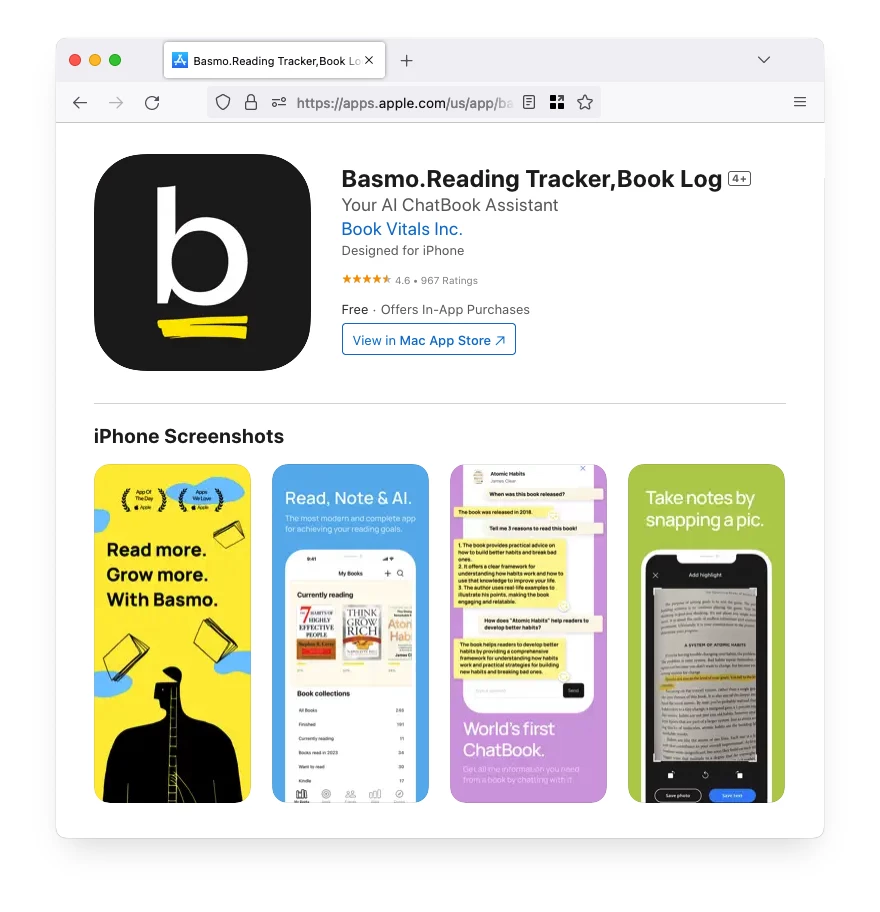 On top of this, Basmo can also work wonders for your reading habits in general. As a reading tracking app, it can provide you with a ton of other benefits.
You can keep your reading habits well organized. We are all busy and living rather hectic lives and finding time for reading is often more difficult than it should be. That is why Basmo has a built-in scheduler for your reading sessions. You can select the days of the week you want to read in, and even different times of day for each. That way you can easily work around your busy schedule and identify the exact times when you can afford to spend some time reading. The app will also remind you of any upcoming reading sessions through gentle notifications so you never miss an opportunity to read.
You can keep track of your reading performance. By using Basmo every time you read, you allow the app to track some important details about your habits and performance. The app will time each reading session, it will record the number of pages you read, and will calculate your reading speed. That way you can understand how much, how often, and how efficiently you read. Having this information is obviously the first step to improvement.
You will stay motivated to read more. Basmo encourages you to set goals for your reading. That is clearly a good strategy to use if you are unhappy with the amount of reading you're currently doing and you are dedicated to improving. You can select two different goals, one for the daily number of minutes you spend reading, and another for the yearly number of books you go through. Or you can choose both. That way you will always have a clear motivation to pick up a book. The app will also use graphics to illustrate your progress toward meeting your goals so you will always know how close you are to achieving them.
Write notes, and keep a reading journal. With Basmo, annotating books is easy and facile. Every time a reading session is ongoing, you can simply start typing your thoughts and ideas into notes that remain automatically saved within the book you are reading. Whether you want to remember certain information or if you just want to jot down your personal opinions about the stuff you are reading, it's incredibly easy to do it with Basmo. Moreover, you also have the option to keep a reading journal where you can expand on how the books make you feel, create learning plans, or simply write whatever feels appropriate about the reading material you went through.
One of the most popular choices when it comes to book cataloging apps, Librarything is a facile and efficient tool. You can use it both as a web platform and a smartphone app and is a great way to organize your book library.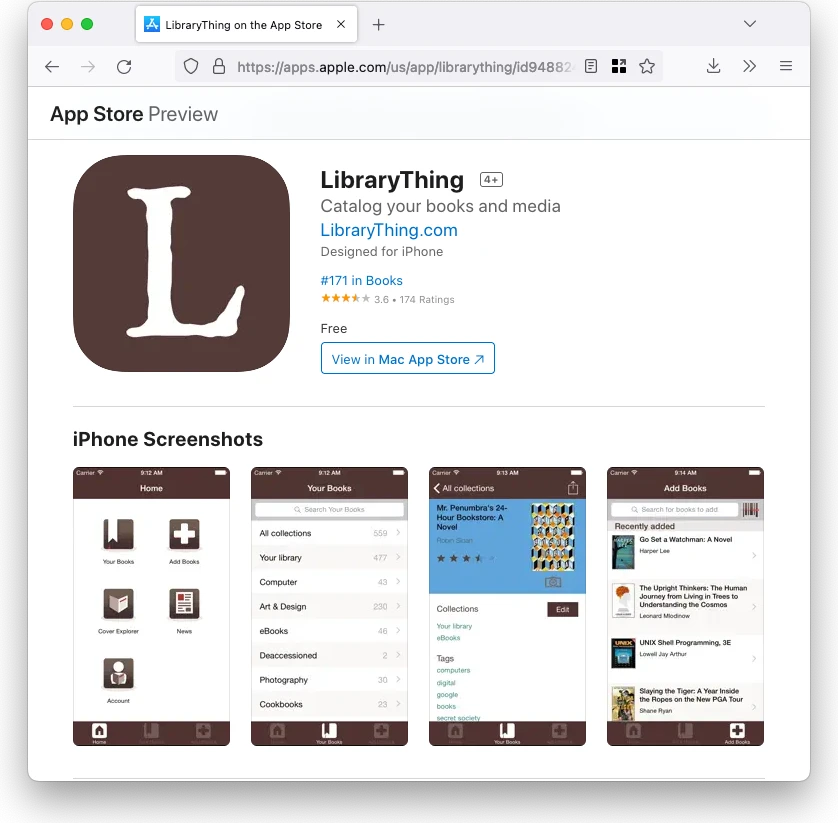 The app automatically downloads a lot of information for each book you add to your collection (publication information, the physical dimensions and weight of each book, and other useful information). Of course, you can also add details manually so you can make sure your virtual book collection is as detailed as you need it to be.
Libib is another great choice for those of you who are looking to have better-organized book collections. You can use it from any device you can think of, whether that is a laptop, a smartphone (Android or iOS), or a tablet.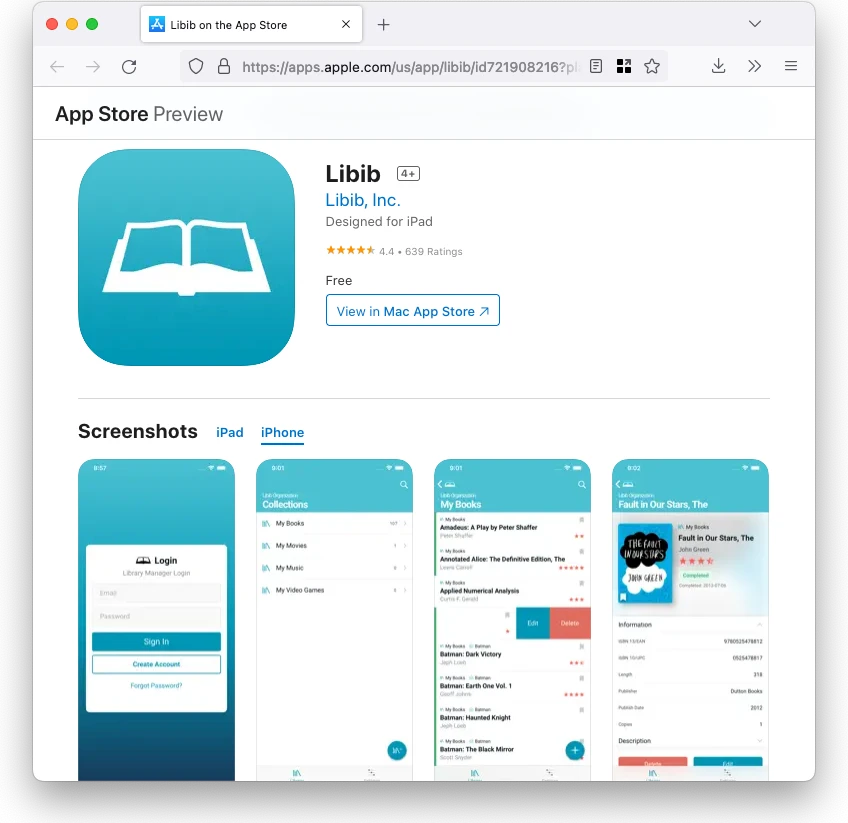 You have several choices when it comes to adding titles to your collection. You can either enter all the data manually, you can use ISBN numbers, or even scan barcodes to identify and add your books. The app is connected to several online libraries, which means you gain access to a lot of data and it is actually quite unlikely to own any books you won't be able to find information about. The books can also be tagged, grouped together, or sorted however you see fit.
A free version and a paid version are available but considering that with a free account you can add up to 5,000 titles in 100 different personal libraries, very few of us will ever need anything more.
Available only to Android users, this app is a great free (and ad-free) choice for organizing your physical and e-book collection.
While it lacks some of the features of its competitors, you may find its simplicity and ease of use quite appealing. After all, it provides you with the exact things you actually need and nothing more. You can create your virtual book collection manually, through ISBN numbers, or by scanning barcodes.
On top of this, the app offers you the option to tag your books however you need, you can sort them by author, publication date, or any other relevant information, so they are quite easy to find even if you are in a hurry. You can mark books as read or unread, and you can even create a wishlist so you always know what books you should buy.
Another great choice solely for Android users, Book Catalogue is a free home library app that is quite popular among readers everywhere.
It all stems from its simplicity and user-friendly platform, which makes the whole process of organizing your book collection quite easy and smooth. It is a no-nonsense choice and it delivers exactly what you would expect it to.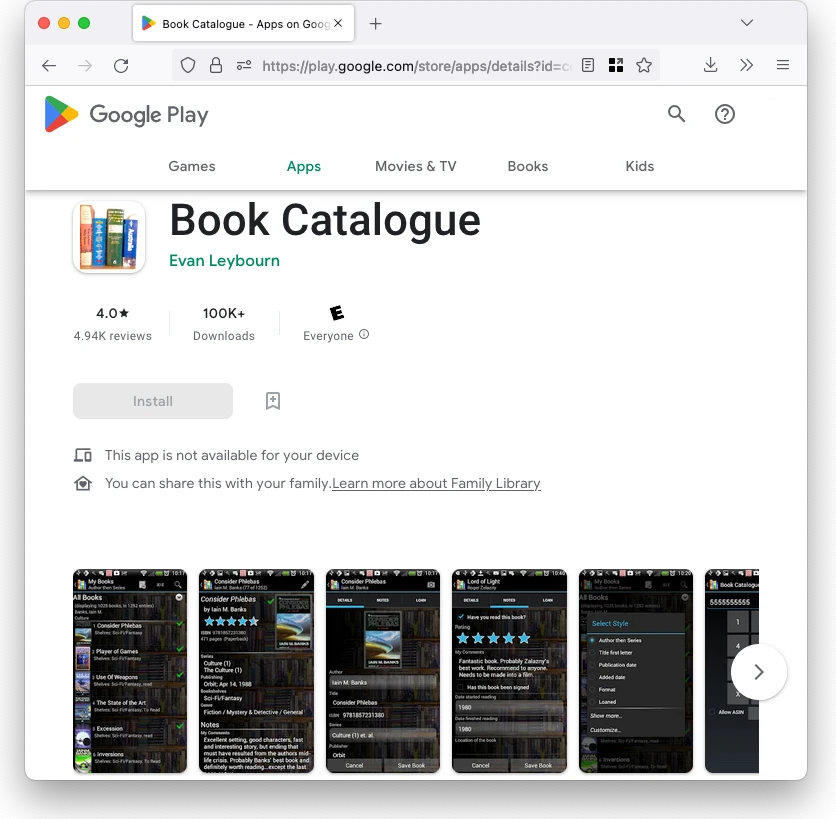 Adding books to your virtual library is easy and as with most other apps on our list, it can be done either manually, through ISBN numbers, or by scanning barcodes. One thing that makes Book Catalogue actually stand out from the competition is a functionality that makes a lot of sense: marking your books as loaned. It is actually quite surprising that not that many book-organizing apps are including it in their offer.
Being able to mark down what books you loaned to your friends is a very useful thing to do. That way you no longer forget about the books you gave away and you always know who needs to return any of your titles.
Being the most popular platform dedicated to book lovers, Goodreads couldn't have been missed from our list. While its main purpose is far from being a solution for those who want to create virtual versions of their lists of books in their collection, Goodreads does cover some ground in this aspect as well.
It is not one of the most traditional apps to catalog books, and the system revolves mainly around the concept of virtual bookshelves. By default, your newly created Goodreads account comes with just three: Currently reading, Read, and To Read. But you are given the option to create additional ones and, of course, that means you can easily use one as your book collection for organizational purposes.
Since it is not a dedicated book library app, you don't get many options when it comes to adding books to your collection. For example, adding books by ISBN numbers or scanning barcodes cannot be done and you are only left with the option to manually search for each book.
That being said, Goodreads may not be the ultimate app to catalog books, but it is quite a good destination for book lovers in general.
Why do you need an app to organize books?
Using an app to catalog books comes with a couple of notable advantages when compared with the traditional pen-and-paper method. For starters, using an app comes with the benefit of accessibility first and foremost. You can easily create and manage your book collection, add or remove titles, and even keep track of book locations in case you have them spread around multiple places in your home.
Moreover, these little wizards usually come with a couple of additional features that can enhance your reading experience. They can be quite handy little helpers and they tend to go the extra mile when it comes to making your life easier as a book collector and reading enthusiast.
One of the most annoying things you get to avoid by using one of these book organization apps is duplicating the titles in your collection. Having a significant number of titles in your collection generally means that you won't be able to remember every single one. Picture this: you're in a bookstore, find a couple of novels that seem interesting, and purchase them, only to realize when you get home that you already had some of them. By contrast, if you were to use one of the book cataloging apps below, you could easily avoid this simply by pulling your phone out of your pocket and checking the list of titles in your collection to make sure you don't own any of the books you are about to buy.
Some of these apps to catalog books also allow you to export or share your list of books. That way, you can publicly announce to your friends and family what books you already own, so they don't buy you things you already own if you usually receive books as gifts.
Final thoughts
The best book organization apps can completely change the way you stay in touch with your book collection and how efficient you are in keeping it up to date. If you are looking for a complete solution for all your reading needs, including the possibility to manage your physical book collection, we strongly recommend Basmo.
Image by macrovector on Freepik