Learning what the best Notion book tracker template is and how you can use it to your advantage can have a massive impact on your reading habits and overall performance. Tracking your reading is a great way to make sure you are on the right path to achieving your goals.
Here at Basmo, we are entirely dedicated to helping you reach new highs as a reader. Whether that means reading more, having a more diverse reading list, or simply having healthier reading habits, we have got you covered. All of these can be achieved with a more structured approach to reading and the backbone of better-organized reading is definitely having a way to properly track what you read in order to be aware of your performance. That is where book tracker Notion templates come in.
5 Best Free Notion Book Tracker Templates
One thing you need to know right off the bat when it comes to Notion book tracker templates is that you have options regardless of how much you are willing to invest. Using a free Notion book tracker template certainly comes with a lot of advantages. If you are looking to track your reading for free, there are some templates you can successfully use.
Here are some of the best Notion book trackers you can download and use at no cost whatsoever.
This is a highly customizable template with a comprehensive design that is available for download completely free. It is a highly versatile tool to use if you want to track your reading and it can have a massive impact on the way you read and how you develop your reading habits.
Among the most notable features, I need to mention the book progress indicator, two separate (rather complex) author and genre databases, and the reading goal tracker.
Another completely free book tracking tool built on Notion comes from Cosme at no cost whatsoever. You can get it completely free or you can choose to purchase it at any cost you consider fair.
This is another quite versatile and customizable Notion book tracker template and it comes with some interesting additional features like a built-in To-Buy book list, a way to set your priorities, highlighting and annotating features, and, of course, the already implied progress tracker for your reading adventures.
Probably one of the most complex and versatile Notion templates for book tracking, this is clearly one of the favorites. Being one of the more visually-pleasing options on our list, this template is a lot more than just pretty though.
It comes with all the features you would expect from a dedicated reading tracking template from Notion but also surprises you with organized views for your book categories, reading status, different other tweaks like note-taking or summarizing features, and an overall great user experience.
Another great option for those of you who are not looking to invest in a book tracker template for Notion, this one comes with more than enough features and flexibility to help you in your efforts to keep track of your reading and instill some basics into your reading habits. 
You can create complex reading lists for yourself with this template, you can save the quotes you love, and you can add different statuses to the books in your collection. Your titles can be split into different categories according to the genre and you can get as creative as you want by adjusting the template to match your preferences.
While it's definitely not necessarily the prettiest option out there, this Notion template for tracking your reading is clearly one of the most versatile and useful.
The design is simplistic and practical. Everything you need is within reach from the first time you open this Notion reading tracker template. There are more than enough features, but this is the most no-nonsense option available. You can track your reading, create reading lists, and do pretty much anything else you desire. You can even personalize the template and make it your own.
5 Best Paid Notion Book Tracker Templates
If you're looking for a little more versatility and some better-looking templates, you always have the option to choose a paid book-tracking template from Notion. While these do come with some added features, better looks, and improved functionality, the most important part of paying for a template is actually the commitment you make to using it.
From the moment you pay some money for a Notion template for reading tracking, you will feel responsible for using it so your money isn't wasted. This can add a new layer of motivation to your reading habits. Also, supporting the creators of Notion templates is important as well. They have been responsible for some amazing creations in the Notion spaces and we owe it to them to thank them for their efforts and dedication.
That being said, here are some of the best Notion book tracker templates for you to spend some money on.
Available for download for as little as 10$, this book tracker template from Notionway is guaranteed to improve your productivity and boost your reading habits.
You can use it to track the books you're reading, create separate lists for those you already read and those you want to read in the future, you can group the titles according to the genre and you even have a space to use for jotting down your thoughts or favorite quotes.
Probably one of the more complex options out there, the Fronk Notion template for book tracking comes with several options both in terms of costs and functionalities.
For a 6.50$ one-time fee, you can get the basic book tracker, which comes with a built-in author database, book summary templates, a progress bar, and other reading tracking tools that come in handy.
If you want to spend a little more, for 9$ you can download the second version, which includes, on top of the book tracker, a podcast tracker, a movie tracker, and a series tracker.
For 39$ though, things get a little crazy. You can get a media hub, a finance tracker, task manager, travel planner, and another 20 different templates on top of the reading tracker.
One of the priciest options on our list, the book tracker created by Robbie Bouschery is certainly one that you should consider purchasing if you are serious about your reading. 
It comes with a wide series of features meant to make tracking your reading an easy and fun adventure. There is no manual data entry required, as you can simply choose all your titles from the 100 million books library.
Among other interesting features we find a way to import your Goodreads library in mere seconds, tons of presets and ways to customize your tracker, features meant to help you organize your highlights and add your notes, and a built-in reading tracker that will make your progress toward meeting your goals a walk in the park.
On the other end of the spectrum in terms of costs, we find the Notion Dude's book tracker that is available at a mere 5$. It comes with pretty much everything you expect from a decent reading tracker template on Notion.
While there are no extravagant features or visually breathtaking presets, you still get a good enough tracker with a reading list that is easy to organize, a way to keep your book library in check, a progress tracker, note-taking features, and an overall good reading tracker.
What comes as an important extra is the fact that AI technology has been implemented in this Notion template, and that allows you to get book recommendations and other benefits.
Available for 8$, The Book Worm template created by Ian Dikhtiar is another decent option for those of you who are looking for a no-nonsense book tracker.
Despite not actually standing out from the competition with anything, it does pretty much everything it should and everything you would expect it to do. It will help you stay organized, it gives you plenty of options to keep your reading list updated, it allows you to add notes while reading, and even gives you an option to set reminders to revisit your own notes.
What Is the Best Notion Book Tracker Templates Alternative?
First of all, it's important to know that Notion has quite a lot of decent alternatives. While other note taking apps can also be used as an alternative for Notion, reading tracking apps are by far a better choice.
And while there are several on the market at the moment, the one that is the best choice, having more features than you can imagine, is Basmo.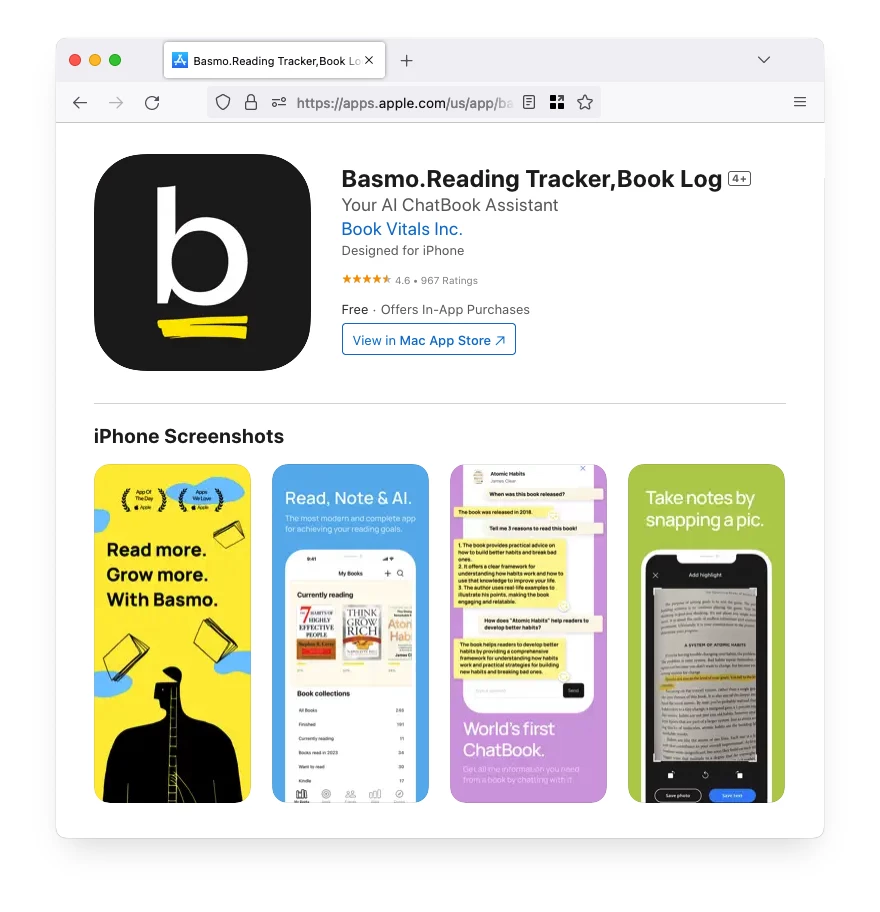 If you've ever discovered a thing or a device that makes your life so much easier that you are suddenly unable to understand how you managed to live without it all your life, this is the exact feeling you will have after using Basmo for the first time.
While Basmo has a relatively short history compared to other options out there, it comes fully packed with features and useful gimmicks for all book lovers. It was built with a lot of love, attention to detail and with you, today's reader, in mind. And it shows from the very first time you open the app.
How Is the Basmo Book Tracker Better Than the Notion Book Tracker Templates?
First and foremost, Basmo is a dedicated reading tracker app, which means that it was designed to help book enthusiasts take their hobby to a whole new level. When compared to Notion, the first thing that stands out is how easy to use the app is.
Here's a couple of the features that make Basmo a much better choice than Notion when it comes to book tracking.
Basmo Requires No Additional Setup
While Notion requires some knowledge and a couple of tweaks before you can actually start using it properly (organizing the boards manually, deleting dummy data, populating the boards with notes and tasks), Basmo is fully set up the second you download it on your mobile device. As soon as you access the app, you can immediately start using it.
There are no additional features that need to be downloaded later, everything is already at your fingertips and you have nothing else to worry about other than focusing on your reading.
Reading Lists Are Much Easier to Compile and Use
Basmo comes with a predefined set of book collections which can be populated (or that are automatically populated as you read books). These lists can also be customized, or new ones can be created on top of the predefined ones, which means you can even create separate lists for different genres or by author.
Moreover, the lists are much more easy to configure with Basmo than with Notion. The benefit of having a dedicated reading app translates into a better user experience for a book lover.
Tracking Your Reading Has Never Been Easier
Basmo allows you to keep track of your reading from the moment you choose a book to read until you finish it. All your reading sessions will be recorded with just a few taps, you will have access to interesting stats about your reading and your collection of read books will increase automatically as you mark novels as finished.
As soon as you buy a new book to read or simply pick up an old one from your bookshelf, all you need to do is search for it by name or author in the Basmo app, tap on it and start a reading session.
This will automatically add the book to your "currently reading" collection and the app will start tracking the time you spend reading, also calculating the number of pages you read in each session (it can be manually adjusted if Basmo's estimate is wrong- spoiler alert: It rarely is). A bookmark can be added after each session so the next time you start reading it will be a lot easier to pick things up exactly where you left off.
While all that can also be done with the Notion book tracker template, none of the steps is automatic. You will need to add the book manually into a note and drag it manually to the "currently reading section". Not only that, but if you want to keep track of your reading activity and your progress towards the end of the book, all that will need to be done manually as well.
Basmo Allows You to Scan Pages
By using the page scanner in the Basmo app, you can either save images of the pages you loved the most or extract the text and save it as a note. Alternatively, you can use the scanner to save quotes, by extracting just the relevant text from a page you scan.
Save and Format Your Quotes
You can even use a specially designed quote editor feature, which allows you to format the text you extract from the book either keeping it as a note, or by turning it into an image using predefined templates or personalized ones. These can also be easily shared on any social media platform.
You Will Be a Much Better Organized Reader
Basmo comes with a series of features meant to help you become more organized. Here's what you get.
Reading schedule: you can set the days of the week you want to read in and separate time of day for each, so you can create a reading schedule that revolves around your daily routine.
Gentle reminders: you will be reminded of each scheduled reading session with push notifications on your smartphone
Reading goals: you will be able to set realistic goals for your reading. You can either choose a larger scale goal for the number of books you read in a year or a daily goal for the time spent reading.
Reading statistics: whether it's your reading speed or the progress you've made towards reaching your reading goals, Basmo will provide you with interesting insights of your reading habits.
Conclusion
While Notion has been a breakthrough in its own way and impressed internet users over the years in many different ways, when it comes to using it as a book tracker, it holds nothing against a dedicated reading app like Basmo.