The habit of reading nowadays, while still having the same amazing benefits for our body and mind, has changed. There's a plethora of apps and websites out there, created with the sole purpose of making reading more effective, appealing, and enjoyable and one of the most popular ones is clearly Goodreads.
But nothing is perfect and that also applies to this platform. For those of you who really want to make the best of your reading, this article explores some Goodreads alternatives which can really turn things around when it comes to your reading experience.
What Goodreads Alternatives Are Out There?
Let's explore some of the options out there when it comes to alternatives to Goodreads.
When it comes to apps like Goodreads, Basmo stands out as an incredibly feature-packed and user-friendly reading tracking app. Even though it differs quite a lot in terms of features and functionality, Basmo is a Goodreads substitute that can tremendously improve the reading experience for those who use it.
As you will also discover below in our in-depth explanation, Basmo is one of the best book apps like Goodreads, but it comes with a series of very interesting and useful additional functionalities. While Goodreads is a great platform for book recommendations and finding book ratings, Basmo is more focused on providing you with the best possible reading experience.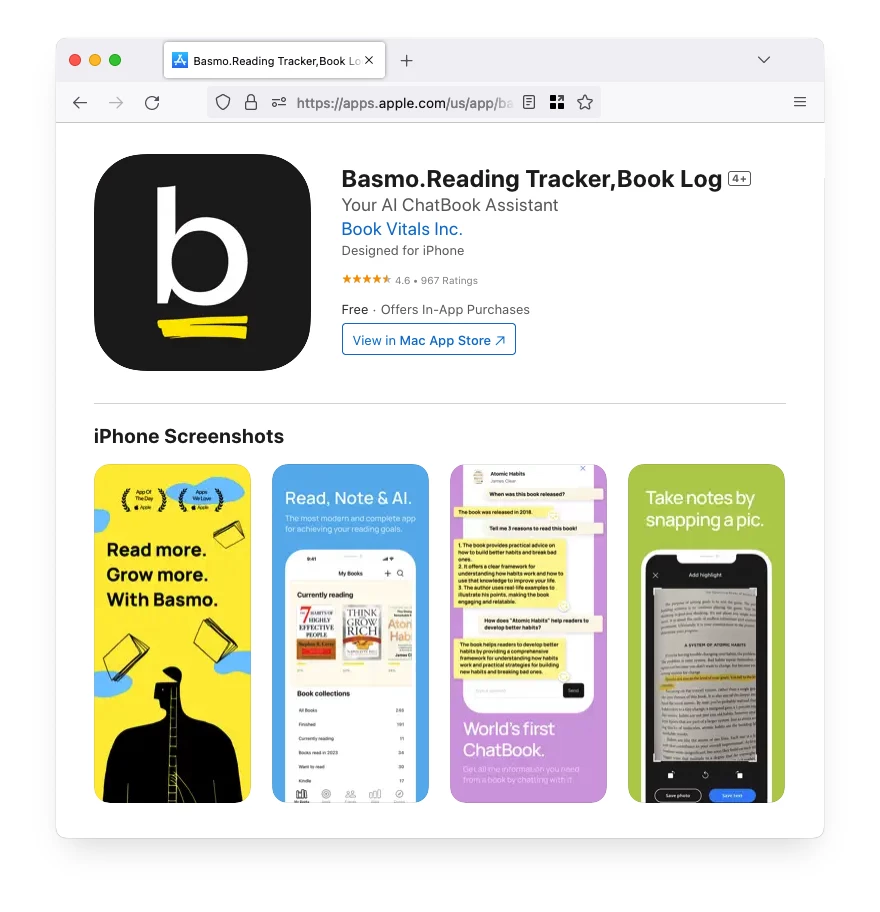 The idea behind Goodreads is to be an all-in-one destination for the book lover, but it lacks a certain attention to the actual reading experience. Basmo goes the exact opposite way, offering the most and best features to aid the modern reader in achieving the best performance.
Goodreads also comes with a couple of interesting features like book tracking and reading lists, but Basmo takes everything to a different level. As you will discover below, Basmo also offers ways to improve your reading habits, schedule reading sessions, analyze your performance, and motivate yourself to read more.
This platform takes making reading lists and cataloging books to another level. It allows users to create endless collections of books, movies, and music. Sadly though, as much as we like lists, today's reader needs other features as well, which are not included in Libib.
While Libib is an amazing tool to use as an online database of your books, reading lists, and to track the books you're reading, it lacks a lot of other important features. It is a great alternative to Goodreads without a question, but its role stops at keeping track of the titles you go through and those you would want to read.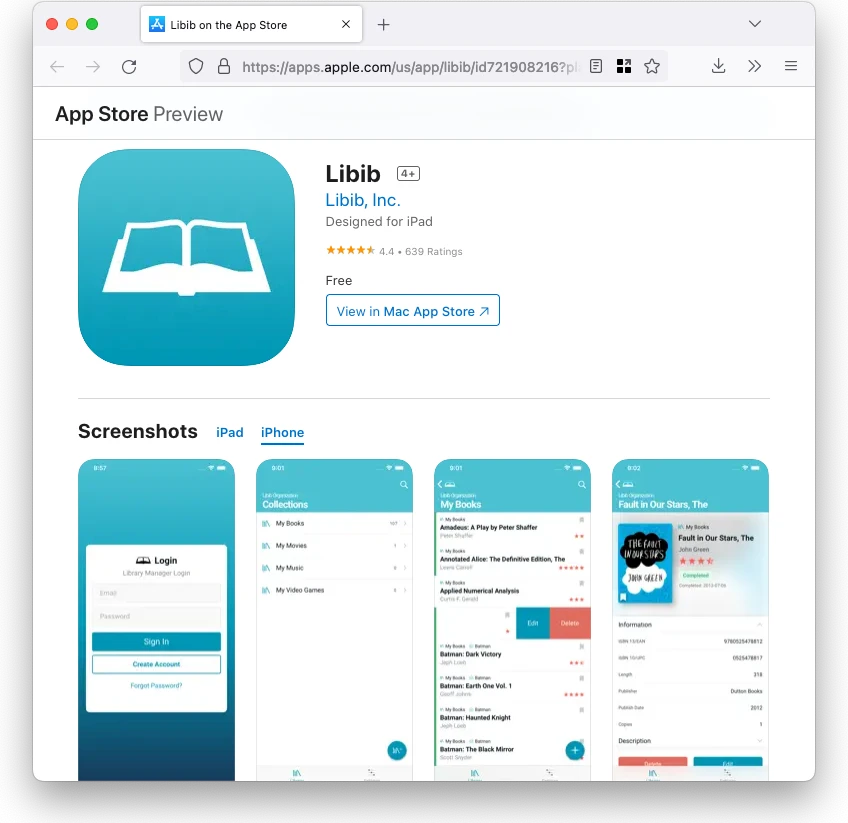 The interesting thing about Libib is that it allows you to create as many libraries as you need, which means that you will be able to catalog your books in a very well-organized fashion. On top of this, adding books to your collection is incredibly easy thanks to the addition of a barcode scanning feature.
Your libraries can also be shared, which means you can easily give access to your list of owned or read books to those who would want to gift you books.
Once a book is added to your collection, you can also rate it according to your own opinion, change its status (not read, currently reading, already read-for example), you can edit its information, tag it as part of a larger group, or even write some personal notes about it.
Yet another reading app that is a recommended alternative to Goodreads, Bookly makes an interesting proposition: to look at reading as a daily workout. While it is lacking the community aspect of Goodreads, Bookly has some interesting features which make it a worthy contender.
Bookly markets itself as a tool meant to "habitify" reading. Its creators claim that through a series of features, the app can not only be an alternative solution for Goodreads users, but also a tool for those who want to improve their reading habits.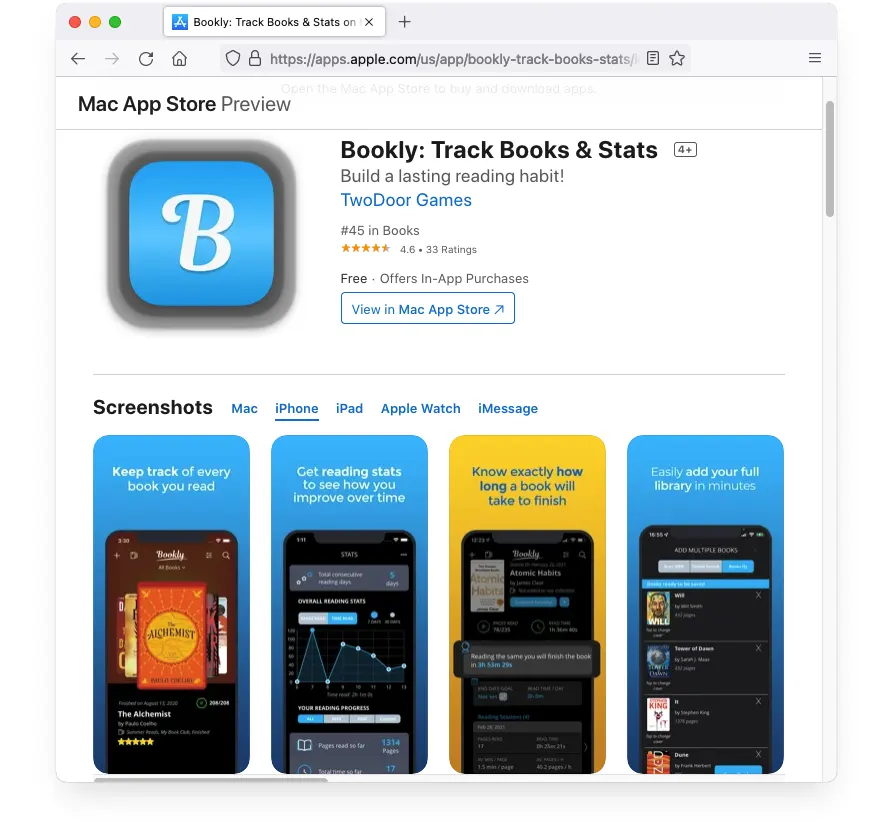 The app can help you keep track of your reading, it allows you to schedule your reading sessions, create book collections, and analyze your performance. You can add books to your collection, the app will give you estimates on how long it will take you to read them based on your reading speed, and you will gain access to a bunch of stats.
Bookly also generates interesting infographics every time you finish reading a book, allowing you to share the experience with your friends, family, or any online communities of your choice. They will be able to see your total reading time, the number of pages read, your average speed (pages per hour), most pages read in a single day, and your record in terms of minutes spent reading per day.
There are many sites like Goodreads, but the creator of The Storygraph had no intention of creating a Goodreads alternative. The initial purpose behind the project was to come as an addition to the faulty Recommendations section of Goodreads, but a couple more features have been added as time went by, which turned Storygraph exactly into what it wasn't supposed to be: a competitor for Goodreads.
The good news for us is that through this process, we gained access to quite a nice tool. The Storygraph even offers book lovers the possibility to import all the data from their Goodreads account if they decide to make the switch.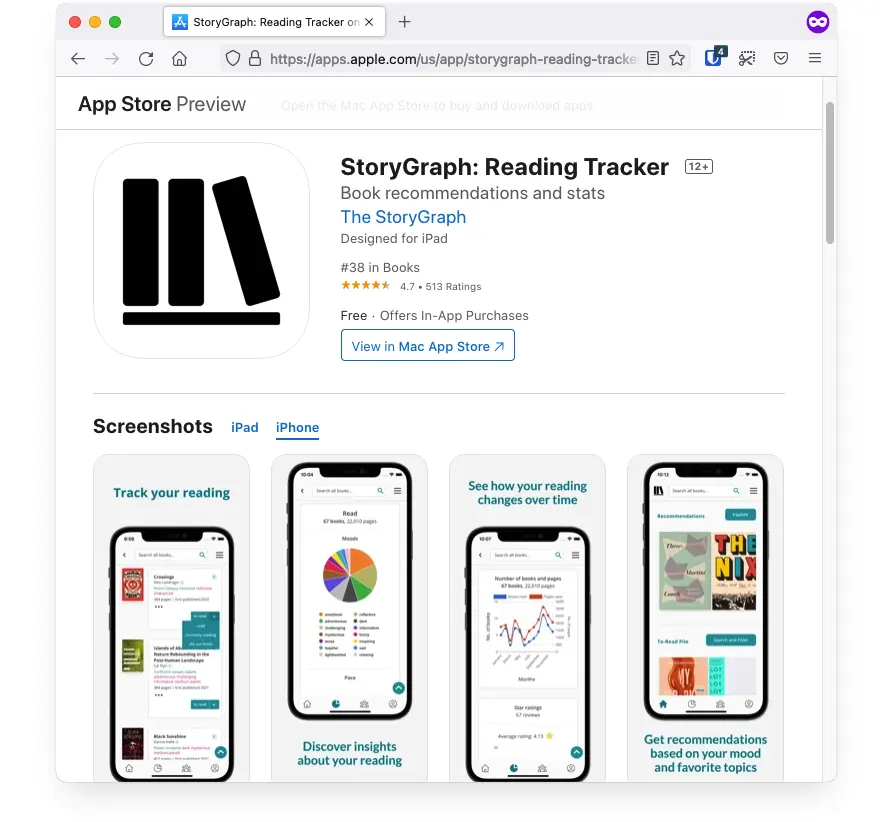 While Goodreads, despite being owned by Amazon, lacks quite a lot in terms of user experience, The Storygraph is a more friendly platform, offering a clear design and a nice layout. This makes it quite easy to use and managing your TBR lists and other collections is a simple and enjoyable process. You can filter your book piles by genre, author, and other characteristics, including personal tags. A particularly interesting feature is the ability to issue content warnings regarding certain books. This way, the community works close together to let other members know what to expect in regard to certain books.
You get to see your own reading stats in the form of comprehensive reports, the app can help track the books you read, and if you register for the premium version of Storygraph, you also gain access to personalized book recommendations.
Founded in 2018, this app was created in Puerto Rico in the aftermath of Hurricane Maria. The creators, Xiomara Figueroa and Lincy Ayala decided that since many people had turned to books and reading to comfort themselves, they also needed a platform dedicated to building a community of book lovers while also helping them keep track of their books.
While BookSloth is definitely an app like Goodreads, there are many things that differentiate the two. For starters, BookSloth is exclusively available as an app and doesn't have a desktop alternative.
The community aspect of BookSloth is interesting, allowing users to see other members with similar book preferences. That way you get to see what other users like you are reading so you can get inspired from their collections. You also get book recommendations from the app's algorithm and according to user reports, they are generally quite good.
You also have an opportunity to interact with other readers through a "forum". The feature is called Book Club and works in a similar way to actual book clubs. They are created around certain books and you get to chat with people about those particular titles.
Booksloth also allows users to rate books and write reviews. That way, all the members of the community work together to provide accurate information about all the titles in the library.
As the name suggests, this platform is mainly dedicated to those of you who are interested in organizing your book collections. But there is a lot more to LibraryThing and certain things definitely make it similar to Goodreads.
You can use LibraryThing to find book recommendations, organize your collection, add or remove books from lists, and find out how you perform as a reader. Like Goodreads, LibraryThing also offers a community aspect to reading, and you can join discussions with other members.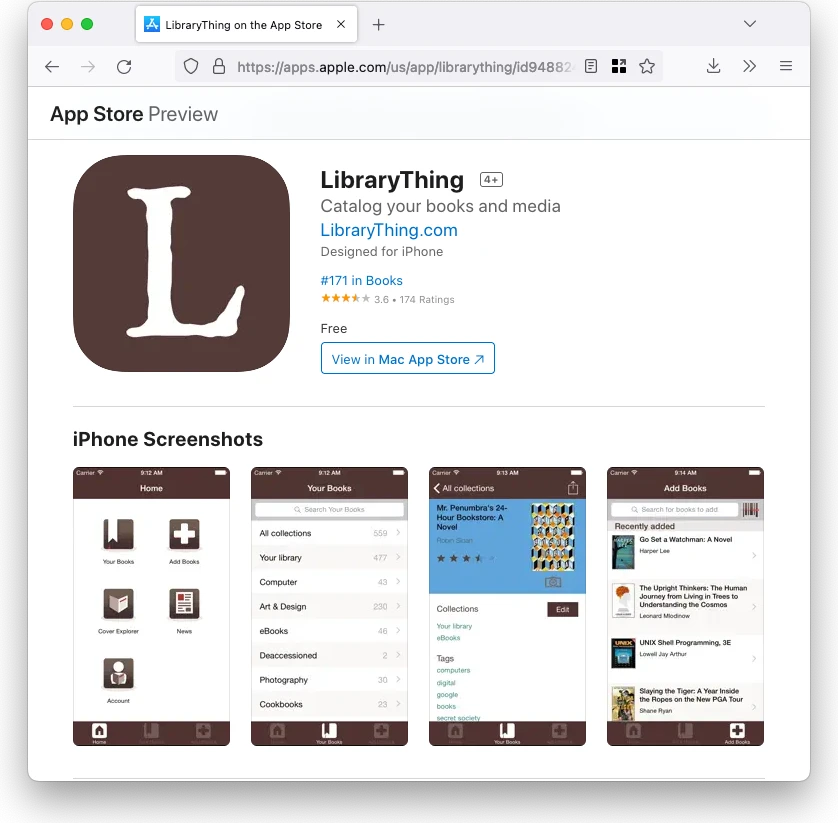 LibraryThing can also be used to track your reading and understand your reading habits to a certain extent. While it lacks in this aspect compared to other apps better than Goodreads, it does have a couple of helpful features.
The main purpose of LibraryThing remains organizing books, bookshelves, and collections though. The recommendations you will receive are generally quite accurate and you will most likely enjoy being a part of their community.
Marketed as an independent social network for book enthusiasts, Anobii is a great Goodreads alternative. It tackles mostly the community aspect of reading but it also allows you to build your library.
It has millions of users worldwide and being a contributor is an amazing experience. You get to rate the books you read, sharing your thoughts with an amazing community of reading enthusiasts.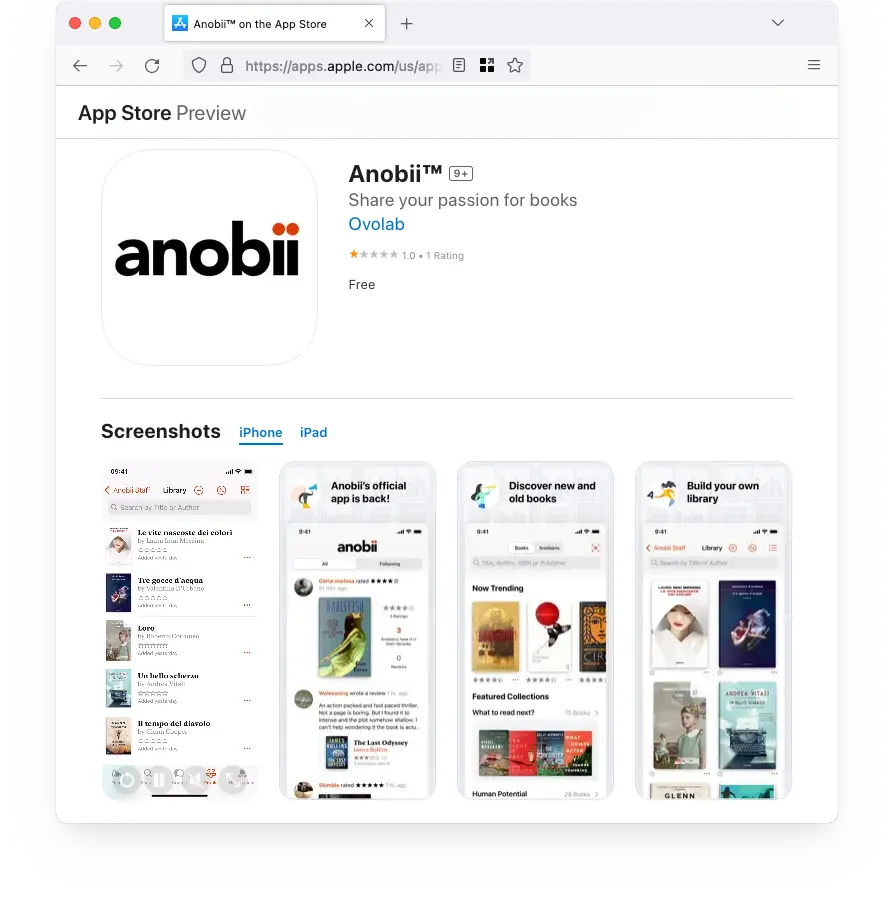 Being a social platform first and foremost, you get to make friends and see other users' profiles, which allows you to use their collections as a source of inspiration. You can get a ton of book recommendations as well. The app works great as a tool to organize your own collection, allowing you to create your own shelves.
Anobii also comes with a couple of features that make it a reading-tracking app, but that is not exactly where it shines. You do get some statistics and information about your reading performance, but not at the same level as other apps on this list. The main advantage of Anobii remains its community and the millions of book reviews you will be able to find.
Probably the closest thing to Goodreads, BookBrowse shares a lot of similarities with the platform it tries to beat. It is a platform designed mainly as a support for those who want to share their thoughts and opinions about books and those who are looking for book recommendations.
Even the color scheme is similar to Goodreads, so if you've been a member of Goodreads until now, switching to BookBrowse is going to feel like home. You will find news, wordplay games, book clubs, and giveaways, and you will be able to interact with other members of the community.
You will be able to find books you would have never found otherwise based on personal recommendations and user reviews. An interesting thing is that the platform also has a couple of interesting quizzes you will be able to use in order to find out about your personality based on the books you love and your reading habits.
Top picks are also available and the recommendations are made both by community members and BookBrowse staff, so you will be able to make great choices.
Yet another platform dedicated to reading enthusiasts, Bookstr is a great contender to Goodreads. There's a lot to enjoy once you become a member and again, the focus is on the community aspect of reading. You can read book reviews, join conversations with other members about your favorite (or least favorite) titles, and you can enjoy book recommendations based on your personal preferences.
There's a lot of content available on Bookstr, with tons of articles about different types of books, authors, and reading in general. There are a bunch of interesting quizzes you can take and find out surprising things about yourself as well.
Whether you're a young reader, an avid one, or just interested in passing some time and finding out about the newest releases, there is something for you on Bookstr. From pop culture to lifestyle, book collections, giveaways, and recommendations, you are certainly going to enjoy your time on Bookstr.
BookLikes is also a great alternative for those who are no longer happy with Goodreads. The platform is amazingly user-friendly, comes with a bunch of interesting features, and can be used as a great way to find your next book to read.
You can use BookLikes as a social platform, where you can interact with other book lovers with similar interests, or you can enjoy the functionalities that allow you to organize your books and reading habits. You can be an active member of the community, as the app encourages you to share your thoughts about the books you read.
Interestingly, BookLikes allows you to create a personal blog within the platform, as long as it is dedicated to the books you read. While it doesn't exactly work as a reading tracking app, it does generate a nice timeline of your reading where you can analyze your most important milestones.
11. Bookstagram, BookTok and BookTube
If the community is an important aspect for you as a reader, you'll be happy to know that Bookstagram, a very popular "corner" of Instagram among book lovers, can be a great replacement for Goodreads. While it's not exactly one of the sites like Goodreads you'd expect to read about here and comes with no features or even a website of its own, the Bookstagram community is worth including in the list because is a great place to find out about new books or to see what others think about certain titles.
The great thing about online communities dedicated to book lovers is that you can find one on pretty much any social media platform you can think of. While Bookstagram is probably the most popular one, you should know that BookTube (youtube channels dedicated to books and reading) and BookTok are also worthy of your attention.
They come with the added benefit of providing information in videos, and you can easily find book reviews, book recommendations, and other interesting things easily and in an easy-to-follow format. If you've been using Goodreads so far in order to discover new books that match your preferences or to stay up-to-date with the newest releases, you should know that online communities like Bookstagram, BookTok, and BookTube can be an amazing alternative.
Going in a completely different direction, Notion can also be used as a good alternative to Goodreads. Notion is a productivity tool, but its versatility has pushed its creative users to develop all kinds of templates and solutions.
While it is mainly used as a management solution that gives users a free space for organizing their tasks and taking notes, either as part of their jobs or for personal use, there are dozens of templates out there that can turn Notion into completely different tools.
That being said, one of the most popular templates is the ReadingHub, which can be used as an amazing library organizer and reading tracker. While the ReadingHub template is great and officially offered by Notion, there are other user-created templates you can choose from when it comes to finding the perfect reading-tracking tool.
The great thing about Notion is that it offers complete freedom. You can use any template you want or you can even create your own one, and this gives you a chance to organize your books and track the exact aspects of your reading you are most interested in. You can add tags and notes to your books, you can rate them, set different statuses for each title, and even write down how many pages you go through.
Why Is Basmo the Best Goodreads Alternative?
Many have tried to fill the Goodreads shoes, but few have succeeded. We feel like this is the obvious top choice for Goodreads alternatives and here's why.
1. Basmo Allows Users to Set Daily or Yearly Reading Goals
Whether you want to choose how many minutes to read every day or just want to set a big-picture yearly goal for the number of books you read, Basmo allows you to do that easily and quickly.
2. Basmo Is an Amazing Tool for Quote Lovers
Books are filled with interesting ideas, great sayings, or simply beautifully phrased thoughts we sometimes want to share with others. Basmo allows you to save your favorite quotes, edit them, save them as images, and even share them on a social media platform of your choice.
3. Book Scanning
The camera on your personal smartphone can be used to scan pages from the books you read and by using Basmo, you can accurately extract the text you want to save for later use, whether it's an interesting quote or simply an important part of the book you want to remember.
4. Reading Statistics
Basmo allows you to track the time you spend reading, the number of books or pages read, your progress towards your reading goals. All this is valuable data for reading enthusiasts who want to take their hobby to the next level.
5. Basmo Tracks Your Reading Time
By using the app every time you pick up a book, all your reading sessions are recorded and stored. Having this information stored in one place doesn't only allow you to better manage your reading habits, it also allows you to improve your efficiency. You can find out your reading speed and start improving it, or you can start reading more or more often.
6. Basmo Can Be Your Notes Taking Little Wizard
We all feel the need to take notes while we read and while many of us still do it by putting pen to paper, Basmo offers an interesting alternative: doing it digitally directly in the app. While your reading session is ongoing within the app, you can simply pick up your phone and start writing your notes. They are immediately saved and you can edit them whenever you need to, directly on your phone.
7. Basmo Allows You to Keep a Journal of Your Reading Emotions
End each reading session by choosing an emoticon to match how you feel, and this will be stored in your mindful reading record. Understanding our emotions is an important part of our self-development and having an app that journals our emotions can prove to be extremely useful for our reading habits.
8. Reading Sessions
Basmo can be used every time you read. By starting a reading session every time you pick up a book, you keep a record of your reading habits which can later be used to improve them.
9. Reading Lists
Since we're discussing Goodreads alternatives, the ability of creating lists was not to be missed. Luckily, Basmo has been created with the reader in mind and we know how important lists are. Users can either use and populate the already existing Book Collections from the app or can create new ones and personalize them endlessly.
10. Reading Schedule and Reminders
Another reason why Basmo is one of the best Goodreads alternatives is the fact that it allows users to create their own reading schedule and helps them stick to it. Users can set daily reminders to be notified every day or every other day about their upcoming scheduled reading sessions. That way, they can ensure to always stick to their plan and reach their personal reading goals.
What Are the Goodreads Disadvantages?
There's a reason why so many Goodreads alternatives exist and why people are constantly trying to find better ways to find books and organize their reading habits. Goodreads, while it is, without a doubt, a positive force in the universe of book lovers, lacks quite a lot of functionalities and has a lot of areas where things could be improved. Here are some of the main reasons why other Goodreads users have decided to look elsewhere.
1. The Website Disappoints
Despite being a part of the Amazon empire which comes with the advantage of almost endless resources, the website is slow, cluttered, outdated, and counter-intuitive. It seems like the website hasn't had any real improvements in years and it shows.
2. Important Features Don't Work or Do It Poorly
One of the things that most Goodreads users want to be able to use all the time is obviously the Search function. While a search feature is as basic as it gets nowadays in terms of website functionality, many Goodreads users have complained about not being able to find the right books even when searching for their exact name and author. Oftentimes the right title appears as the last search result (if it appears at all), after a bunch of other results which have little to do with the book they are looking for.
On top of this, another disappointing feature is the recommendations tool, which, all readers can agree, is extremely important. Users reported receiving pointless recommendations instead of personalized ones based on their taste that they were expecting. "Instead we have a book tracker that, for many people, barely works", claims one of the users.
3. Unreliable Book Ratings and Reviews
One of the things Goodreads prides itself on the most is its community. The fact that all users are allowed to publicly rate, review, quote or annotate books could have been a huge advantage. Unfortunately, many users reported fake book reviews having been posted to push certain titles higher in the rankings. Not all the information on the Goodreads website can be trusted and that pretty much defeats the purpose of building a readers' community.
Not only that but there have been moments when authors reported having lost all or a big part of the user reviews they had gathered throughout the years. Needless to say, issues like this can have a negative impact on an author's reputation, and also make Goodreads a lot less trustworthy in the users' eyes.
4. The Mobile App Is Not What You Would Expect
Much like the website, the Goodreads app is slow, clunky, has a poor design, and is not user-friendly at all. It is outdated, hard to use, and lacks many features that users have found useful in other reading apps.
Conclusion
Now you know pretty much everything that is wrong with Goodreads and you have a pretty good idea of what the best Goodreads alternatives are. It's a shame really that it has come to this. The idea behind the project is amazing and despite its many flaws, it remains one of the most popular platforms for book lovers. One can only wonder what could have become of Goodreads if they would have taken advantage of Amazon's immensely deep pockets.
Apps like Basmo do an amazing job at filling the gaps and even bringing new things to the table, so they deserve a fighting chance against the underperforming and, quite honestly, disappointing Goodreads giant.
Give Your Reading Experience
An Extra Boost With Basmo
Track the books you read, monitor the time you spend reading and keep notes on your reading habits and how it makes you feel. You can set yourself targets for the time you spend reading and you can get notified whenever you're behind on your reading time.
Image by Freepik