As modern readers, we tend to turn our focus to every possible tool that can make us more productive, that can make our reading experience more enjoyable, or that will allow us to read more in the limited time we have at our disposal. While a time-generating app hasn't been invented yet (*sigh), there is a plethora of tools out there that promise to take our reading habits to the next level.
Choosing between Basmo and Goodreads can require quite a lot of research and a trial-and-error process you probably don't have the time and patience for. That is why we did a bit of research for you and we are now presenting you with an honest and objective Basmo vs Goodreads comparison.
The number of available reading apps, tools dedicated to reading, and websites for book enthusiasts has reached a point where it became quite difficult to actually make a choice. Which one is the right one for you?
Before we actually dive into the comparison of the two reading-dedicated services, let's make sure we have a good understanding of what each of them really is.
What is Goodreads?
Goodreads is an online platform dedicated to books and reading, with a focus on the social aspect of being a bookworm. It is a book cataloging service first and foremost, founded by Elizabeth Khuri Chandler and Otis Chandler back in 2006.
It is now a subsidiary of Amazon, and probably the most popular reading platform in the world. It is home to over 90 million users worldwide according to the latest data available, and it is mainly focused on having the most complete book library for English speakers out there, user reviews for most of the titles available, and it encourages readers to share their experiences and opinions about every single book that is added to the platform.
One of the main reasons why people use Goodreads is to look for book recommendations generated by the Goodreads algorithm according to their preferences in terms of genres and authors. Goodreads is focused on the social aspect of reading. Finding book recommendations, reading book reviews left by other users, or even writing your own. With Goodreads, people can also set certain goals and track their reading habits to a certain extent, but that is definitely not its strong suit.
What is Basmo?
Basmo, on the other hand, has a somewhat different approach. With Basmo, the focus is not on the social aspect of reading (at least for now), but rather on each individual's personal performance. Basmo is a reading tracking app that can help you improve your reading habits.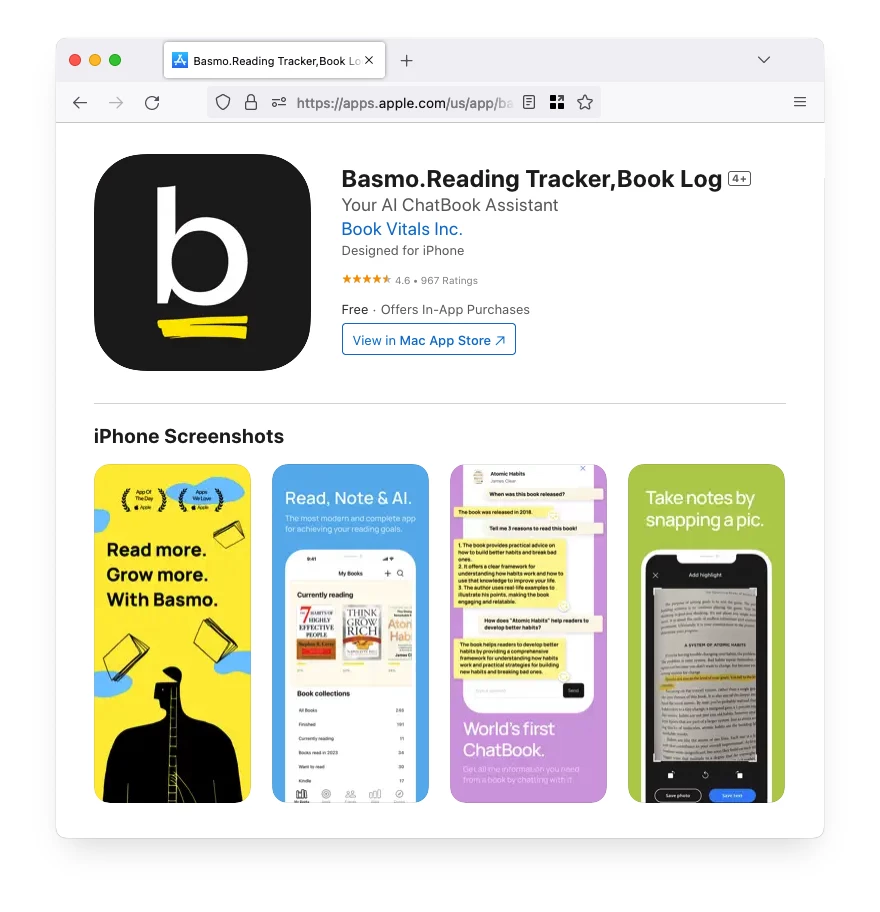 Basmo and Goodreads do share a couple of similarities, but as you know, the devil is in the details. Basmo is designed to be your reading partner, a trusted ally in your efforts to become a mindful reader, get more in touch with your feelings and become a more efficient reader, and a modern solution to every possible problem the modern reader might be facing.
That being said, here's what Basmo is designed to help you achieve:
More reading
Our reading tracking app helps you stay in touch with your performance.
Every reading session is timed and your performance is measured accurately. You can find out what your reading speed is, how many pages you go through in each reading session, and how much time you spend reading every day. This information can be used as a starting point on your journey to improve your reading habits and performance.
On top of this, Basmo allows you to set reading goals and helps you track your progress toward meeting them. You can choose to set a daily goal for the number of minutes you spend every day, a big-picture goal for the total number of books you read throughout a year, or both. The app is going to keep you updated on your progress through statistics and a progress bar.
The app also comes with a built-in reading lists feature, which allows you to organize your reading however you see fit. The lists are customizable and you can easily create as many reading lists as you want, from a general TBR to lists dedicated to different purposes or genres.
Better comprehension and retention
We dedicated a tremendous amount of time and resources to figuring out ways to help you improve your level of comprehension and information retention.
Our app allows you to take notes while you read, which can work wonders in the learning process or simply if you want to remember certain information as you read it. Moreover, the notes can be easily formatted and edited, which will allow you to keep them organized and structured however you see fit.
Healthier and more structured reading habits
Having healthy reading habits generally starts with a need to put things in order. That is why Basmo encourages you to create a reading schedule.
The app has a built-in scheduling feature that is highly customizable to meet your every need. You can manually select the exact days you want to schedule reading sessions and you can even select different times on the days you choose. That way, you can schedule your sessions realistically in a manner that allows you to work around your daily or weekly routines or chores. To ensure that you never skip a scheduled reading session, the app will also remind you through gentle notifications of the upcoming sessions.
Mindful reading
Mindfulness should be applied to every aspect of our lives, and reading is definitely not an exception. The benefits of mindful reading are undeniable and Basmo can help you experience your reading on a deeper, more mindful level.
At the end of each reading session, you are prompted by the app to select the emoji that best matches your state of mind and the information is gathered and organized into a weekly emotions report.
On top of this, the app encourages you to also keep a reading journal. Jotting down your thoughts about everything you read is going to put you in touch with the way you experience your reading and it will bring out the deepest emotions you feel while reading.
Give Your Reading Experience
An Extra Boost With Basmo
Track the books you read, monitor the time you spend reading and keep notes on your reading habits and how it makes you feel. You can set yourself targets for the time you spend reading and you can get notified whenever you're behind on your reading time.
What is better? Basmo or Goodreads?
As you can see, the Goodreads vs Basmo battle is quite an unbalanced one. The two services do share a couple of similarities but are overall extremely different. Choosing the winner between the two will depend a lot more on your purpose and your personal preference than on their characteristics.
How is Basmo different from Goodreads?
Both come with a series of advantages, one of the most relevant ones being that they make reading more fun and interesting. Goodreads comes with the benefit of allowing you to share your thoughts about the books you read and finding book recommendations based on your preferences. On the other hand, Basmo does a lot more for your reading habits than Goodreads ever will.
Where Basmo differs, when compared to Goodreads, is the fact that it is lacking the social aspect for the moment. Basmo was not designed to offer users the option to share their thoughts and opinions about the books they read, and users also cannot read reviews from the community or see book ratings like they can on Goodreads. Instead, Basmo is focused on making reading more fun, mindful, and efficient.
Goodreads users have complained for years about several issues and none have been fixed yet, despite the fact that the platform benefits from Amazon funding and that left many looking for Goodreads alternatives. Basmo, on the other hand, is a small start-up launched by reading enthusiasts who managed to implement and develop several extremely useful functionalities and keep developing the app constantly.
If you are one of the Goodreads users who got tired of using their services, you might benefit from reading our tutorial for canceling your Goodreads account.
How to choose between Basmo and Goodreads?
Choosing between the two tools is not going to be easy. It depends mostly on what you are trying to achieve. If you are looking to find out if certain books are worth reading and you are clearly interested in being able to share your thoughts with the biggest readers' community in the world, then Goodreads should be your top choice. If you want to become a better, more efficient reader and you are more interested in your individual performance and experience, you should choose Basmo.
Of course, nothing is stopping you from using both. You can easily use Goodreads to find out what books you should be reading and to stay in touch with people who share your interests in books and reading use Basmo to track your reading, take notes, create your reading lists, set and achieve goals, and structure your reading habits.
Getting the best of both worlds is usually a pretty great thing to do, and with Goodreads and Basmo you can do just that. Enjoy the community on Goodreads, find out the latest news from the bookish community, learn what people think about certain books, and share your thoughts with others. Once you find the books you want to read and take full advantage of the way the Goodreads algorithm recommends new titles, turn your attention to Basmo throughout your reading sessions.
Final thoughts
Eliminating the misconception of the Basmo vs Goodreads battle is going to help you tremendously. You don't need to limit yourself to a single tool for your reading habits and making the choice to use both Basmo and Goodreads can help you become a much more efficient and happy reader.
Image by pch.vector on Freepik