Being a reader nowadays comes with a series of challenges we never could have imagined a couple of decades ago. Despite having access to more books, more content and more ways of consuming literature than ever before, our lives have become more hectic, fast paced and we are also facing more distractions.
And while our phones and TVs are mostly responsible for not having enough time or not being able to focus on reading, smartphones can also have a positive impact on our reading habits if we use them right.
There are a large number of apps aimed to help the struggling modern reader, but finding the best reading apps for iPhone or the best book apps for iPhone can be a little tricky at first.
What are the best book apps for iPhone & iPad?
Luckily for you, we went ahead and did a bunch of research and we managed to figure out what the good book apps for iPad and iPhone users really are, just so you don't have to go through the trouble of trying them all out.
What you should know right off the bat is that on top of the apps presented below, there's quite a lot of others to choose from and you can obviously try them all, but if you want to get the best experience, I would recommend sticking to the list.
Without any doubt, if you're looking for a reading tracking app and not a book reading app, Basmo is the best choice. The difference between a book reading app for iPhone and a reading tracking app is that the former will give you the opportunity to do your actual reading within the app, while the latter is aimed at helping you keep track of your reading and improve your habits.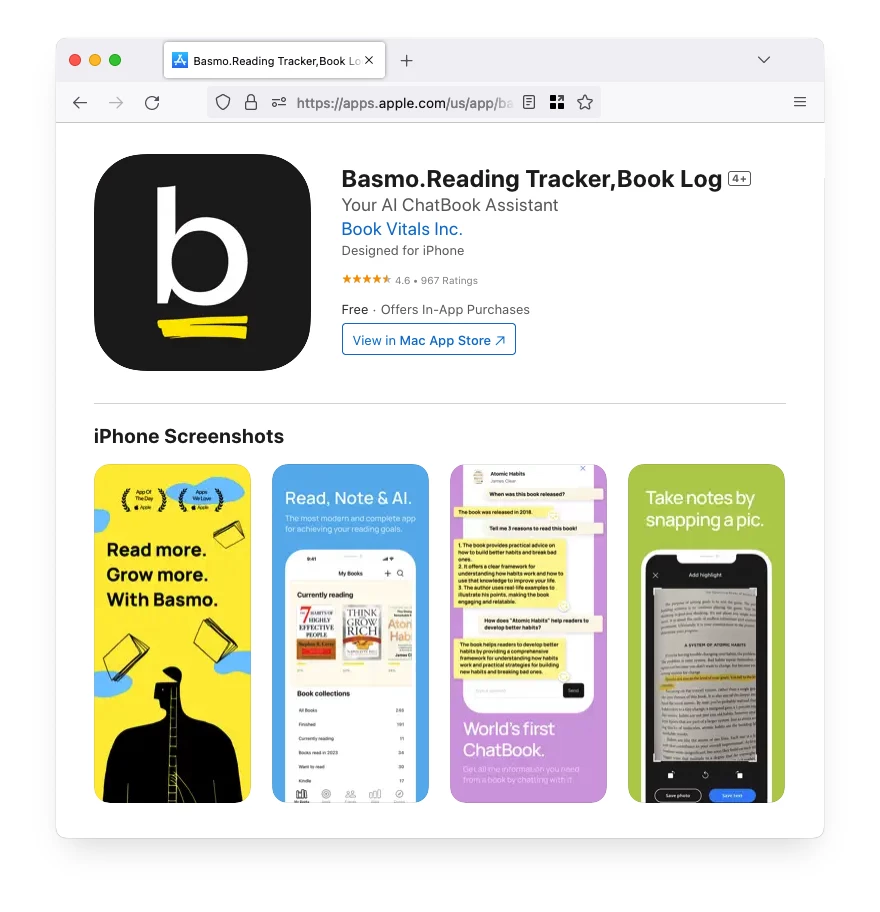 To make sure you have a good idea about what a reading tracking app does, here's a couple of the most important features you can enjoy if you decide to use Basmo:
Organize your reading list
With Basmo, creating a reading list is simple, quick and efficient. You can add as many titles as you want to a series of book collections (which are predefined, but can be customized).
In just a couple of taps, your books will be added to the reading list of your choice and it will be just as easy to remove or to move to the list of finished books.
Take notes while reading
Taking notes while reading will be a completely new and improved experience. You can simply start typing within the Basmo iPhone app while a reading session is ongoing and write down your thoughts about what you're reading. That way you'll never forget the important aspects of your reading material and you will never lose your handwritten notes.
Create a reading schedule
Being organized is essential for a fulfilling reading experience and for making reading a healthy habit. Luckily, Basmo, being one of the best reading apps for iPhone users, has a scheduling feature designed to help you structure your daily routine in such a way that you never miss a day of reading.
You can choose different days of the week and different times on each day, and the app will remind you of the upcoming reading sessions through notifications.
Keep a reading journal
Mindfulness is an important aspect of reading and what better way to keep your emotions in check than by writing them down in your reading journal? Basmo offers you the opportunity to keep a reading journal within the app, so that you can simply write directly on your smartphone how you feel after each reading session.
Scan the pages of your books
Finding a nice quote in a book we're reading is usually very satisfying. Basmo is here to help you remember all your favorite quotes.
You can either save the quotes by typing them manually and saving them as notes, or you can also use your smartphone's camera to scan the pages of your book and extract the text you're interested in.
Use reading statistics
Not only does Basmo help with all of the above, it also provides you with interesting statistics about your reading habits, including your reading speed, progress towards meeting your goals and other interesting facts that can help you become a better, more efficient reader.
Set goals
Basmo allows you to set reading goals. You can choose a daily goal to make sure you read a certain amount of time every day or go big and set a yearly goal for the number of books you go through by the time the year has passed.
As you can see, when it comes to good book apps for iPhone but also Android users, Basmo is by far the most complete solution. Now let's see what benefits you can enjoy through other apps for readers.
If reading paperback books isn't your thing and you decided to use your iPhone or iPad to read on instead, then Amazon Kindle is a more than decent choice. While providing pretty much the same experience as a Kindle reader, the iOS app is constantly updated and improved, it provides users with a series of perks and features like the X-ray reference tool or Whispersync for Voice.
You can use the Amazon Kindle app to read or listen to audiobooks and you will most likely be pretty happy with the experience.
While pretty similar to Amazon Kindle in regards to the functionality and purpose, what sets Libby apart is the option it gives its users to take advantage of their library cards in a different way than they would do it usually.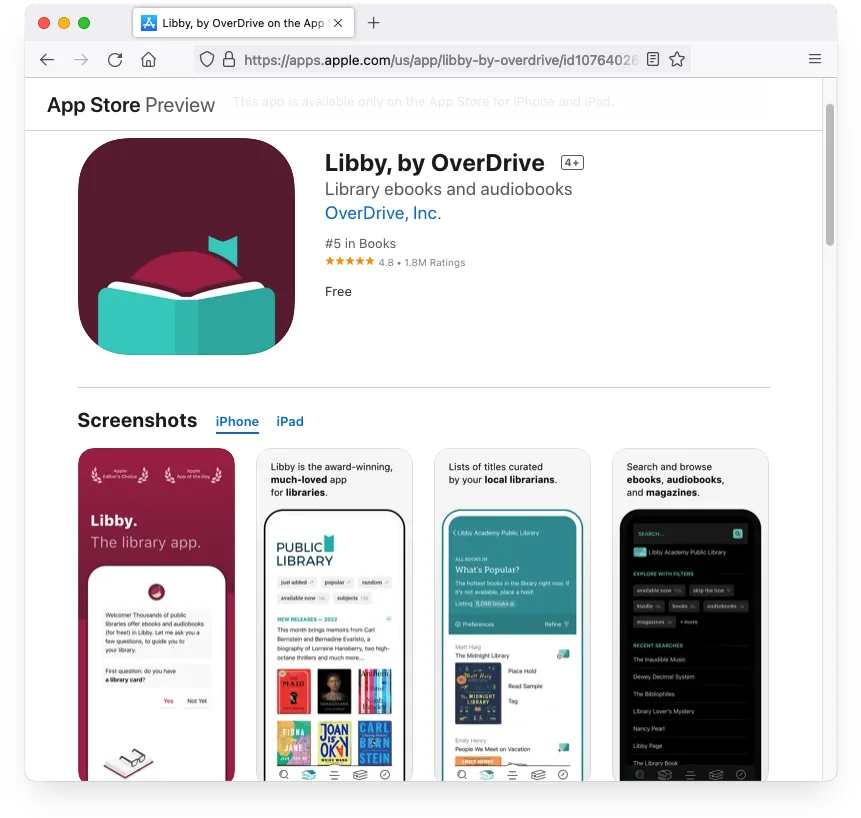 Not only is it one of the best book reading apps for iPhone, it also comes with the added value of allowing you to connect your library card and getting access to more ebooks than you would be able to read in a lifetime. It is part of the Overdrive family and it connects more than 40,000 libraries in 40 countries and has an extensive virtual library consisting of more than 2 million titles.
If you're looking for your new favorite author and you want to give indie writers a chance for a change, Inkitt is the way to go. It is one of the many reading apps for iPad or iPhone users, but what makes it stand out is the fact you get access to more than 100,000 novels written by Indie authors from all over the world.
You can use a genre picker to narrow down your search results if you feel overwhelmed by the number of titles in the library and you are almost guaranteed to find some pretty amazing reading material there regardless of your preferences.
Another great iPhone and iPad app for book lovers is Leio, which has been described as the equivalent of a fitness app for readers. It's there to help you keep your reading under constant control, to get you statistics about your reading and other interesting information.
You can time your reading sessions, plan your reading to a certain extent, stay motivated and is perfect for stats nerds who just love to know everything about everything.
If you're looking for a more youthful, modern alternative to Amazon Kindle and you are ok with a subscription based iOS app that gives you access to over 1 million titles, Scribd is a great choice for you.
It also makes listening to audiobooks a piece of cake and what sets it apart from the competition is that it also gives users access to magazines on top of the ebooks and audiobooks you would expect. Essays, academic dissertation and even government reports are also available, and the content can also be downloaded and enjoyed when offline.
Also available on a monthly or yearly subscription, Summary Z is another noteworthy iOS app for readers. Considered by many as one of the best book apps for iPhone, Summary Z comes with a couple of innovations for those of us who are always in a hurry.
As its name suggests, this app focuses on book summaries, which are written by a series of contributors and made available in bite-size increments, available both as text and audio versions. The app also allows you to set certain goals and includes a ton of quotes and ideas from a variety of books. Sharing these with your friends or on social media platforms is made easy as well.
What are the best free book apps for iPhone & iPad?
While the apps in the list above are available in free trial versions as well for the most part, unlocking their full features and benefits will require you to pay for a subscription of some sort.
If you're looking for free apps to enjoy reading on your iPhone, here are some suggestions.
As an iOS user, this is probably the most natural choice for you. The Apple books app is native, pre-installed on all iOS devices. As you would imagine, it works flawlessly on any iPhone or iPad and despite what your first impression may be, it can be easily used in the free version.
There is a special section within the app, called Special Offers & Free. You are going to find a couple of good books there, available for free. And the best part is that the offers change quite often, so you will always have something new to read for free.
Apple book's equivalent on Android devices, Google Play Books works just as well on iOS devices. The app is completely free and while not offering the same benefits as its Apple counterpart, it does come with a couple of perks of its own.
One of the most notable ones is the fact that your library will be instantly synced on all your devices, you will even be able to use it in a browser on your laptop or PC, and that you will be able to use it for all your other e-books, regardless where they have been purchased from.
The app is easy to use and all you basically need to gain access to it is a Google account, and let's face it: who doesn't have one by now?
Ideal for those of you who are in love with classics, the Gutenberg Reader is a completely free iOS app with over 100,000 titles available at no cost. Paying for a subscription would grant you access to the full library of over half a million ebooks.
For a free app, it comes with a surprising number of features, like Day or Night mode, the ability to change the font, font size or even color, brightness dimmer to prevent eye-strain and a couple of others. Despite its relatively aged look, it works very well and it offers you access to a lot more books than you might think.
Another great reading app for iPhone users, BookBub is a more modern looking and user friendly app which offers a lot of benefits for free. There is a relatively large number of titles that can be enjoyed both as text or audiobook versions at absolutely no cost and you have quite a lot of categories to choose from.
The app will constantly notify you of new titles added for free or at very low costs if you are interested and to be honest, it has the potential to keep you busy for hours.
How to choose the best reading apps for iphone?
If you're not convinced of any of the apps presented above, feel free to keep looking and finding the right one for you. Here's a couple of tips and tricks to make life a little easier for you.
Know your purpose and what you want to achieve first. This will make choosing the app a lot easier.
Decide how you're going to use the app – reading, tracking your reading or listening to audiobooks.
Read reviews in the App Store. Trust other users and make sure to always take their ratings into account.
Always download and test the app for free if possible, before paying for a subscription. That way you will be sure the app you're paying for is actually what you need.
Final thoughts
Finding the best reading apps for iPhone users is no easy task with so many options out there. We managed to compile a list of our favorites so hopefully you will waste less time searching for an app and more time reading.
And remember, if you're looking for a complete reading tracking app, Basmo is the way to go!