Not remembering a book name is as frustrating as it gets for us book lovers. It happened to all of us to remember vague information about the plot, or character names, and what the book was about, but to not be able for the life of us to name the book.
Knowing how to find a book title by plot or to find a book using a vague description can get you out of some very annoying situations and can help you avoid restless nights spent trying to remember a book title.
8 Ways to Find a Book Title By Plot or Vague Description
First of all, don't feel bad, we all go through it and it's no indication of your mental abilities. Our brains simply work against us sometimes. The good news is that we have a plethora of tools at our disposal to fight back.
Here's a couple of the most useful ways for you to find a book title by plot description.
1. Google Search + Google Books
While its applications are immensely diverse, Google can be an incredibly powerful tool when you're looking for a book title you forgot. Any search engine will give you the option to look for a book regardless of how little information you have about it.
Search engines are likely to retrieve good results if you search for a partial title, author, description of the plot, or even the way the book looks or what's on the cover. While search engines are incredibly powerful tools you can access pretty much from anywhere and from any device and usually yield great results, they are not perfect. That is why you should always have a backup plan.
But this isn't where Google stops in helping us find the right book. While searching the web is a great tool, sometimes we need a more dedicated platform for our particular book search. That is where Google Books steps in to help.
Google Books is a search engine dedicated to book lovers. It works exactly the same as the classic Google search, but the results are filtered exclusively to present books. You can use it to search by title, author, genre, or anything else you might remember about a particular title.
Google Books can help you identify books by plot or vague description and experience has taught us that it works particularly well. For example, a simple search for "books about wizards" brings up tons of results and chances are the title you are looking for is among these results.
2. Dedicated websites for books
An alternative to search engines when it comes to your need to find a book using a vague description is the dedicated book sites. These can be amazing resources for book lovers, especially in those nasty situations when you can't seem to remember a book title.
LibraryThing is a great tool for book enthusiasts. It can be a great way to improve reading habits and the overall experience. But more importantly in our particular case, LibraryThing can be used to find a book by plot or description through two different sections of the platform: Book Suggester and Name that Book.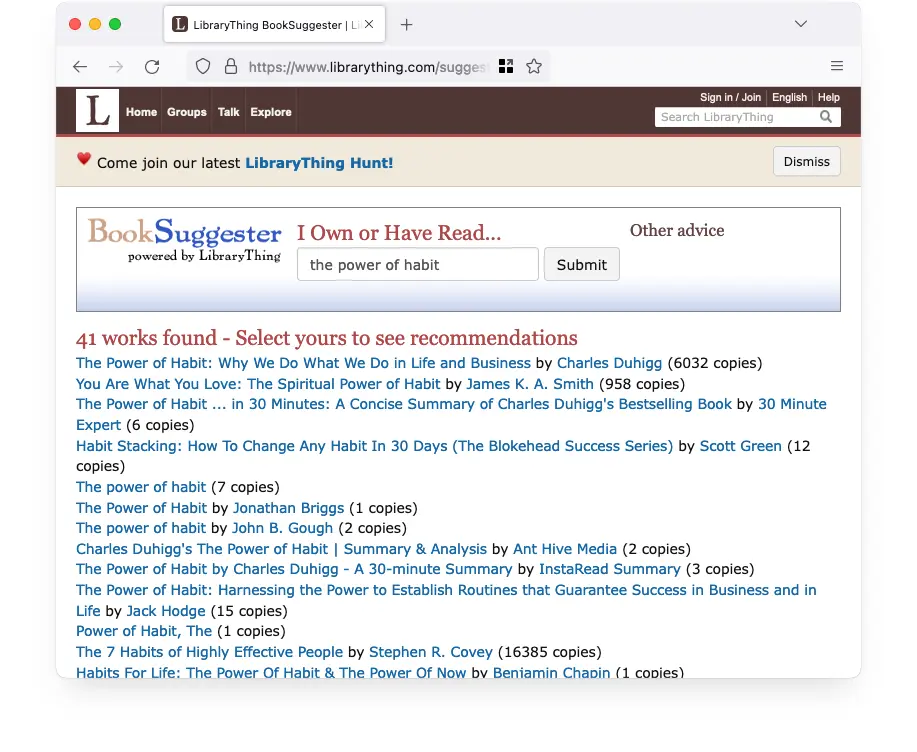 Name that Book is a platform dedicated to the readers' community that works like a forum. If you can't remember the name of a book, you simply make a post about it mentioning everything you can remember about it and other users and members of the community will do their best to help you out.
The Book Suggester is an automated service that uses an algorithm to suggest books based on keywords you have to input manually. The functionality is not amazing and only seems to work well if you put in a book title and the Book Suggester generates a series of results consisting of similar titles.
Goodreads still holds the title of the ultimate destination for book lovers and reading enthusiasts, even though it lacks in quite a lot of different areas when compared to its competitors. Nevertheless, Goodreads is, without a doubt, a great platform to use whenever you need to work on your reading habits or when you are looking for a new book to read.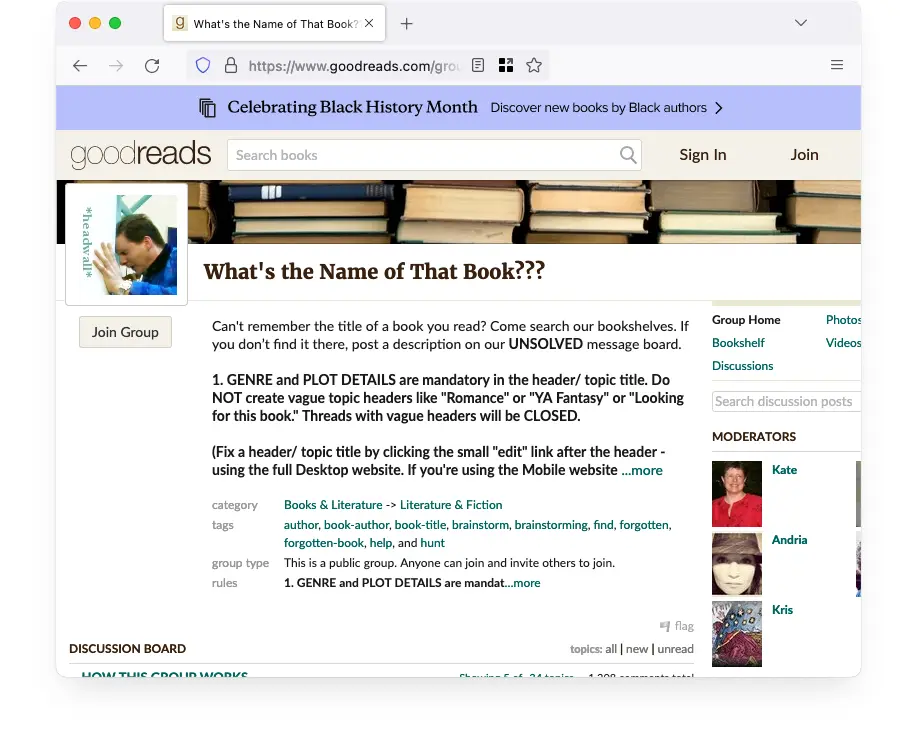 When it comes to the unfortunate event of simply not remembering a book title, Goodreads also offers a solution. The "what's the name of that book" section of the platform is a discussion board where the community works together and members help each other. Whoever needs to find out what a particular book is called, can simply make a post.
Since Goodreads has probably the biggest readers community, you have a good chance to find your answers by asking your questions in this forum-like section. The community is quite active and if you mention as many details about the book you're looking for as possible, you have nice odds of finding a member who will help you out.
This platform, even though it is not entirely dedicated to finding books you know a couple of details about, can be quite helpful. It comes with a couple of interesting features, including a way to search for books depending on your mood, the location where the action takes place, and the characters or plot.
The negative aspect of this solution is the fact that it doesn't give you the option to use keywords in your searches. All you can really do is select some of the details you remember from several dropdown menus.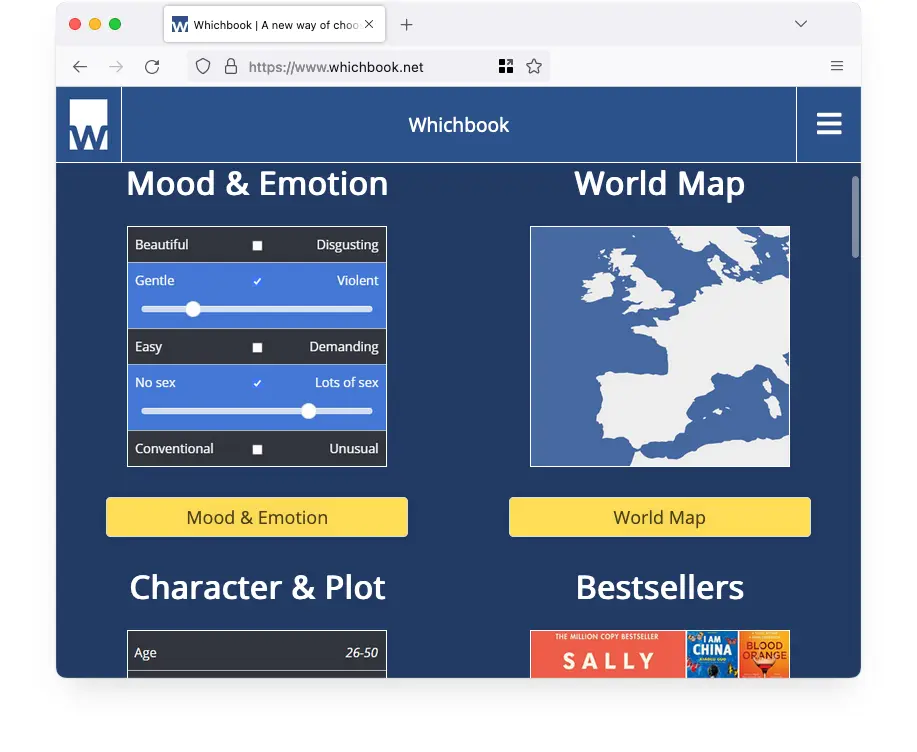 For example, if you want to search for a book by characters and plot, you get to choose the age group the characters belong to, their race, gender, and sexuality. The plot search includes rather vague options like conflict, generations, quest, twists and turns, or success against the odds.
While in some cases, these options might be enough, there will certainly be cases when WhichBook is not going to be able to help you find the book you're looking for. It can be a great way to find a new book to read though if you have a very particular type of book in mind. Using the filters will generate a list of books you will certainly enjoy.
Yet another great option for finding book titles you can't find anywhere else could be the Library of Congress. The great thing about this option is the fact that your searches are not limited to books. You can find articles, references, and any other type of literary work you can think of.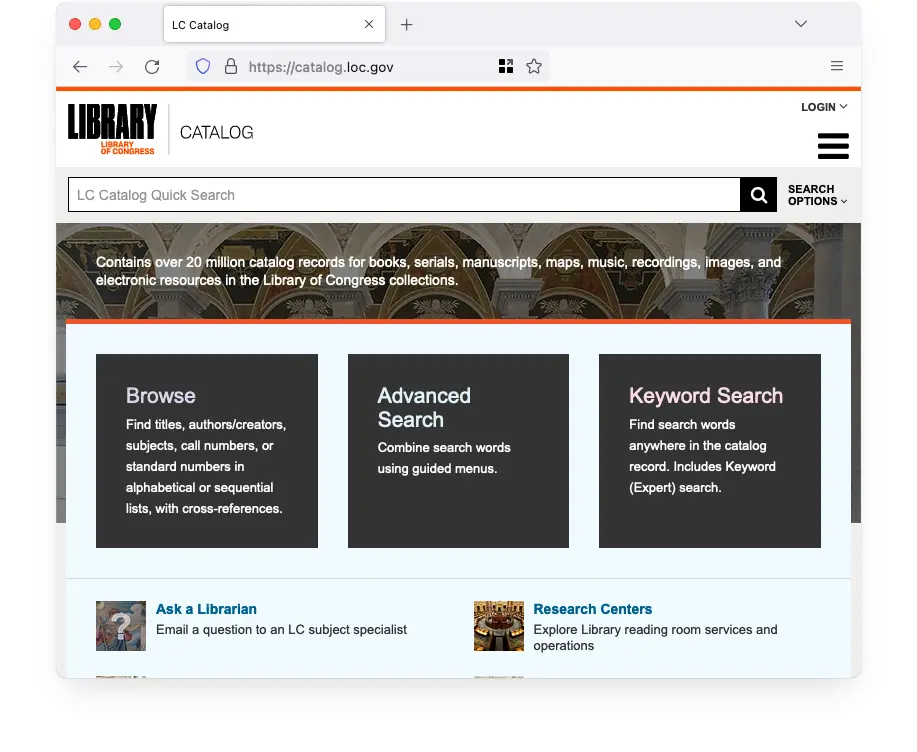 Granted, the search is going to be somewhat limited in terms of the actual keywords you get to use. Finding a book with a cool story about an inheritance using these specific keywords may not be as easy as it might seem. But if you know a couple more details like the release date, author name, or other technical aspects of the book, your chances increase considerably.
The LC Catalog is, without a doubt, an amazing research tool though. For example, if you are interested in a specific character from a book, you can easily input its name in the search box and you will get tons of results: not only the actual books where that character makes an appearance but also articles and other literary work where the character is simply mentioned or described.
Another option for those of you looking for a book you can't remember much about is BookBub. Even though it is not exactly in the traditional way you would expect when it comes to finding these titles, it can still be a great tool.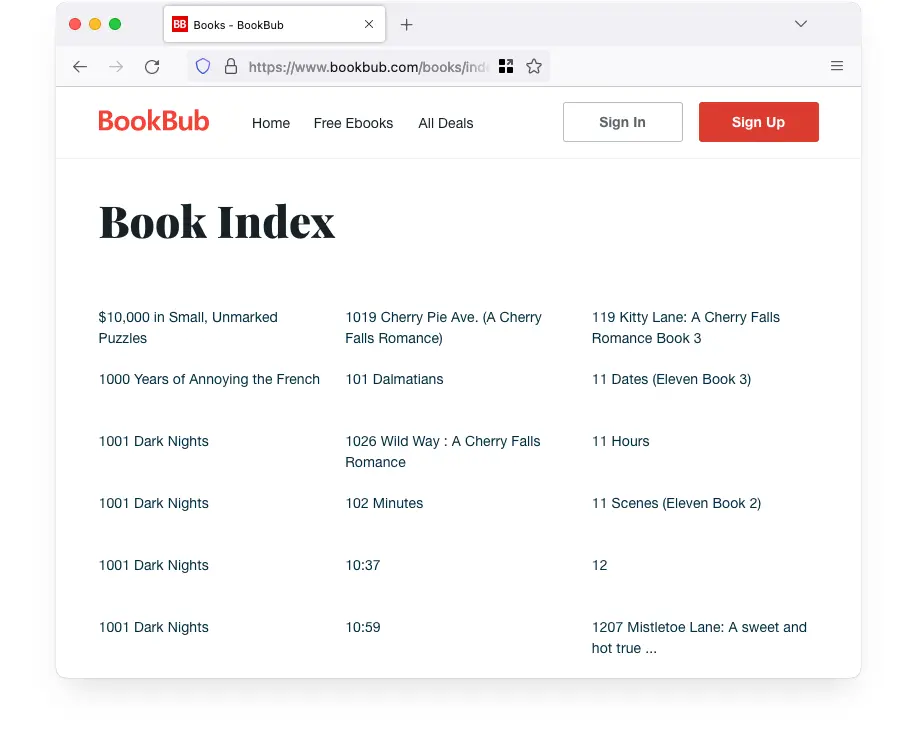 Its main purpose is to provide you with personalized book recommendations. Once you register your account, you get to answer a bunch of questions about your reading habits and preferences. The algorithm then processes your responses and generates quite accurate recommendations.
The great thing about BookBub is that even if you decide not to use the automated suggestion tool, you can still look through their library with a rather good accuracy. The books are categorized very well and you can use a lot of filters to narrow down your searches.
You can filter by genre, retailer, and even price range. Using BookBub is quite easy and the results are generally positive.
The process of learning how to find a book by plot will inevitably make you reach Bookriot at one point or another. This online platform dedicated to books and reading is an amazing destination for anyone who wants to learn anything that involves reading.
You can find podcasts, tons of articles, book recommendations, and an amazingly active community. This community is exactly where you will most likely end up finding what you are looking for. You can join discussions or start your own and the members will definitely do their absolute best to help you out.
Bookriot also offers amazing book recommendations and is a platform where you definitely belong if you love reading. You will find out about the most recent releases, you get to read what other members think about certain books, and there is always something for you to enjoy.
Similar to BookRiot, Literary Hub promises to be the best place a reading enthusiast can visit on the Internet. While I'm definitely not the one to judge whether that is true or not, what I can tell you is that this platform can be a great place to figure out what a book is called when all you can remember is just a couple of vague details about it.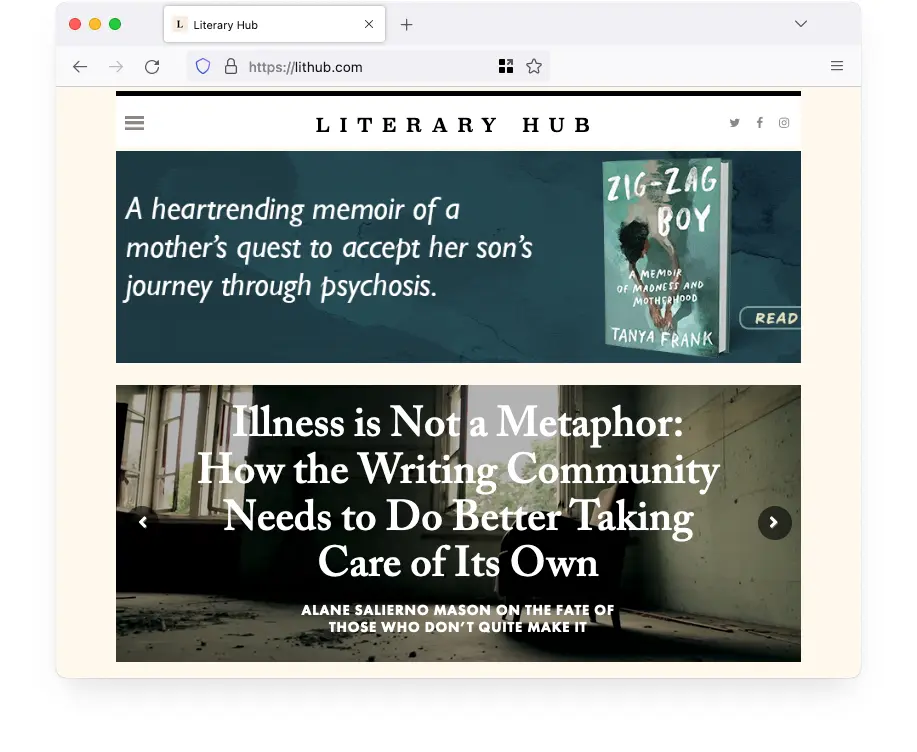 Using the search feature on the website generally yields decent results regardless of how vague the keywords you enter are. But you can also find quite a lot of books in their predefined collections.
If you are looking for a particular crime book, you are quite likely to find it on one of the reading lists they provide. Moreover, you are going to be able to listen to interesting podcasts, find professionally-written book reviews, and you can also join a mailing list that will deliver constant news and the best articles directly to your Inbox.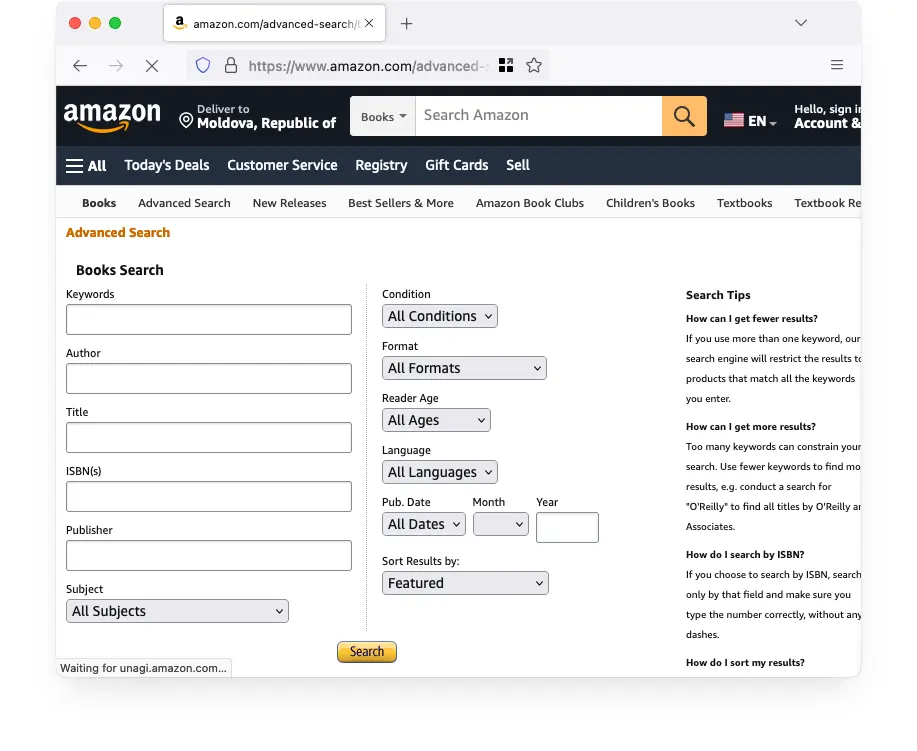 While these may not be quite as effective as search engines, the good news is that by using them to search for a book title you can't remember, you will access platforms designed with the reader in mind. So on top of finding your book, you are likely to find a lot more information about it as well: articles, reviews, criticism, and even other recommendations.
3. Forums
Since we're on the subject of web platforms that can be useful when you need to find a book by description, we shouldn't exclude the forums. There's a plethora of reading forums you can access and where you can simply ask other members to help you remember any particular book.
4. Reddit
Reddit can also turn out to be a savior if you use it right. There are quite a lot of reading-dedicated subreddits that have a ton of activity, where your questions about books can be answered in a matter of minutes.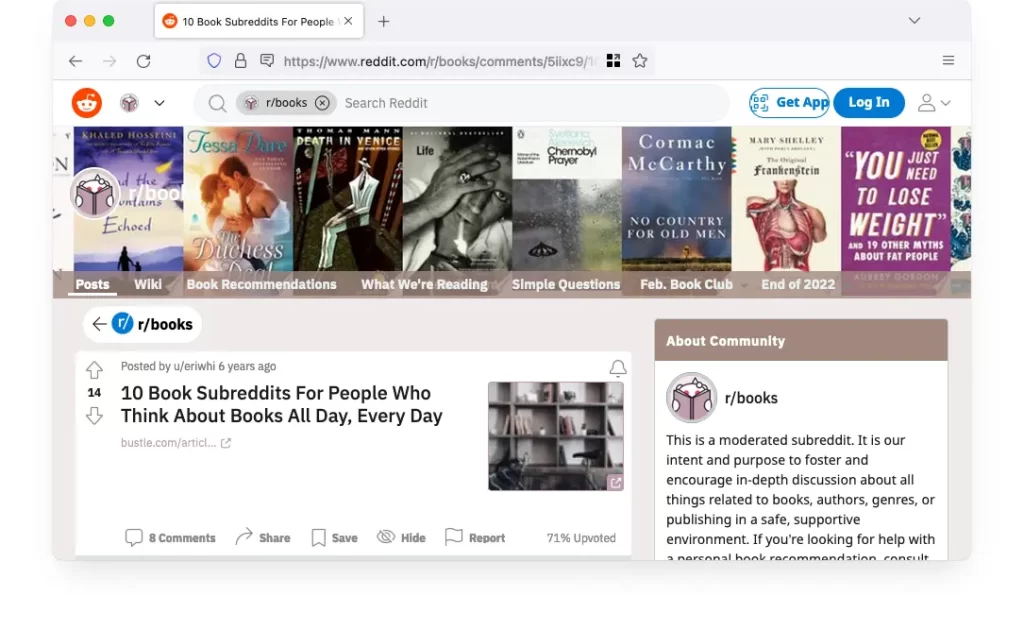 The great thing about Reddit is that it encourages conversations. If you join one of the many subreddits that are dedicated to books and reading, chances are that you are going to be able to take full advantage of the wisdom of an entire community. Simply post whatever it is that you can remember about the book you are trying to find and most members will chip in to help you figure out what its title is.
Of course, there are many other benefits to being a member of these reader-dedicated subreddits. Even when you don't need any particular information, there is a lot for you to enjoy. The members are generally quite active and make book recommendations, post reviews, or start conversations about reading-related matters.
5. Quora
As you probably already know, Quora is an amazingly active and useful platform where you can find answers to even the craziest questions. The interesting thing is that since the platform has a very clever way to reward people who give actually good responses, you are most likely going to find accurate and factually true information on most topics.
This is the case when it comes to books and reading-related topics as well. If you can't remember a book title, you should know that you're likely not the only one who wondered about that same book. Chances are you are going to find your question already answered in the past.
If not, posting every piece of information you remember about the book and asking the Quora community to help out is generally going to end with a positive outcome rather quickly.
6. Your Social Media Circle
Your friends and family can be a great place to start when you can't seem to recall what a particular book was called. Extending that circle further to your social media acquaintances can yield great results.
Regardless of what your platform of choice is, feel free to try and reach out to your social media circle and ask for help. People who know you have a great chance to be successful in providing you with the information you need.
Not only that, but on top of your social media circle, you should also try and take advantage of dedicated groups of people who share your interests. Most social platforms host all kinds of groups dedicated to reading. From Facebook groups to Bookstagram, BookTok, and BookTube, they can all be a great source of information when used right.
7. Your Local Librarian or Book Store Employee
Last but not least, asking for professional help could be the best idea. While it's not the most comfortable of choices, since it involves you going out to a library or bookstore, you should know that this can be an incredibly efficient solution to not remembering the title of a book you want to read.
Book store employees and librarians work with books all day long and more titles pass through their hands than even the most avid of readers. You should never underestimate their ability to help you with book recommendations or with finding out the name of that book you can't remember.
8. Reading Tracking Apps
Most reading tracking apps include a search feature which can turn out to be the key to finding that book title that's been bugging you. The main advantage of having a dedicated reading app is that you can easily access it on any mobile device and comes with a plethora of other features that can help you improve your reading habits.
Basmo is definitely not an exception. Once you have the tiny wizard installed on your mobile device, you can use its search function to find pretty much any book title you can think of, using either keywords, a partial book title, or the author's name.
While there is no option to search for a book just by plot or description, the good news is that by tracking all your reading with Basmo, you will ensure that you will never be in the position of trying to find a book title by vague description. Basmo will save all the books you read or add to the lists and you will always have them at hand.
Also, the app comes packed with other features which will take your reading to a whole new level. Here's how.
Once you find the book you're looking for, enjoy it with Basmo
On top of helping you find book titles even if you don't remember too much information about the novel, Basmo can also make you more organized and efficient when it comes to your reading habits.
First and foremost, it will help you track all your reading sessions and it will record your time spent reading and even the pages read. You can manually start a reading session every time you pick up a book and your progress will be tracked and recorded for further analysis and statistics.
Basmo will allow you to set reading goals, both daily and yearly. You can either choose to set yourself a target of minutes spent reading daily or to set a yearly goal for the number of books you want to read.
To help you reach your goals, Basmo will track your progress towards them and also comes with a reminders function which will set off notifications according to your schedule and preferences so that you never miss out on a reading session.
On top of this, the app comes with a book scanning feature, which makes taking notes or saving quotes incredibly easy and quick.
All you need to do is to scan the page of a book with the camera on your phone while a reading session is ongoing and the app will extract the text and turn it into a digital note.
You can even edit that note by formatting it in a manner that is useful to you, or you can save it as an image and share it as a quote on any social media platform you want.
Conclusion
While understanding how our memory works and how to improve it in a way that makes us remember all the information we will ever need is still a process that baffles scientists, it's important to know that we have tools at our disposal that can make things easier for us even when our memory betrays us.
Whether it's search engines, dedicated websites for book lovers, reading apps or even subreddits or forums, you should take advantage of everything the internet has to offer if you really want to remember the title of a book you don't remember much about.
On top of helping you find the book titles you forgot, Basmo has tons of other benefits for your reading habits, so try it out and see for yourself!