While reading is an immensely pleasurable and rewarding activity, finding a good book to read can be a challenge nowadays. With over 130 million books ever written and a couple of hundred thousand more being launched each year, it's easy to understand why we sometimes feel overwhelmed by the variety.
Learning how to find a book to read is key, and most of the time finding book recommendations based on other books we enjoyed in the past is a great place to start.
20 Ways to Find a Good Book to Read
We have quite a lot of tools at our disposal which can help us choose what books to read for an enjoyable experience. Which ones are most effective and how we can proceed to make the best of every option is up to each of us and our particular tastes and preference.
Here are a couple of the best ways to get recommended books based on other books or to find brand new titles that you will surely enjoy.
1. Goodreads Recommendations or Read Alikes
We all know that Goodreads is trying to be the ultimate online destination for all book lovers. Even though many users complained that the automatic Recommendations section doesn't give the best results, others claimed to be rather satisfied. It probably all depends on the books you read and how the algorithm reacts to your preferences.
On top of the automatic recommendations that are adjusted to your taste based on the books you read, Goodreads also offers predefined reading lists that are compiled starting with some of the most popular titles. The Read Alikes lists have been reported to be much better than the automatic recommendations.
While the platform does disappoint from many points of view, it is still worth it to become a member and use the service.
2. WhichBook
Online tools dedicated to helping you find books to read are a great choice whenever you feel like you're in a rut. While there are tons of alternatives, WhichBook caught our eye as one of the top contenders because of its unique approach. You can use WhichBook to discover some great books and the fun part is that you can set your search parameters according to a pretty interesting series of parameters.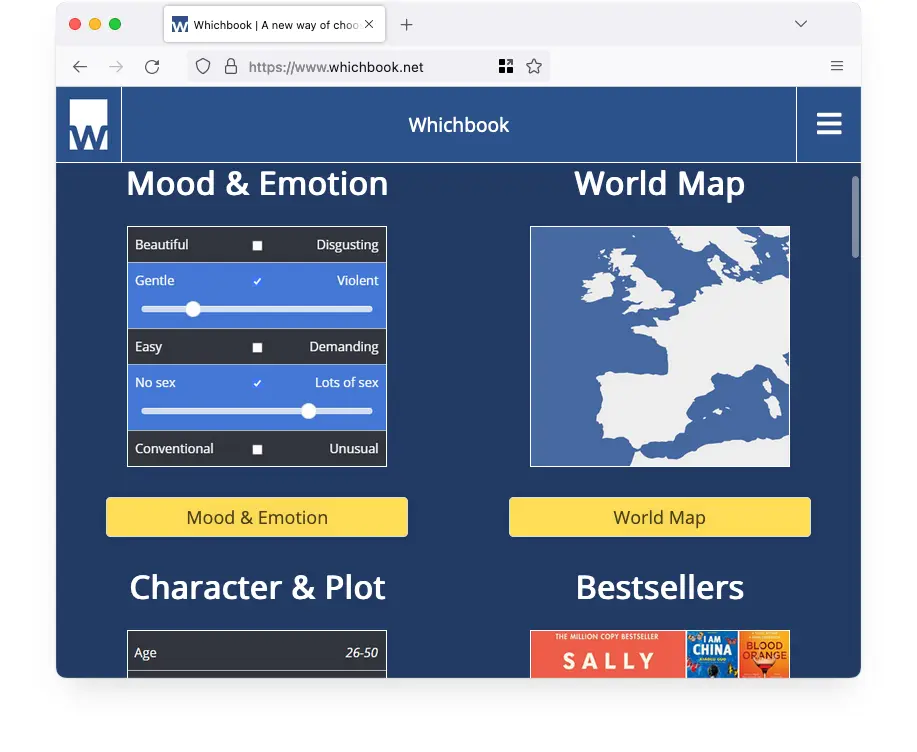 You can filter your book recommendations by mood, the location the action is taking place, the type of character you are looking to read about, and more. Regardless of whether you're looking for a wholesome or violent book, with or without any descriptive sexual activity, where the main character is a man or a woman, with the action taking place anywhere in the world, WhichBook has some rather interesting suggestions.
Finding the right book can be a challenge, but with tools like WhichBook that make the journey a lot more fun and simple, we can always consider ourselves lucky.
3. Bookriot
Bookriot is a great secondary tool for Goodreads users. Built around the same love for reading as Goodreads, Bookriot has been reported by users to provide a more reliable experience when it comes to book recommendations.
Bookriot is a complex platform offering several useful services to us, book lovers. We tried some of them and we must admit that despite our initial belief, their book recommendations are pretty spot on. The website is an endless resource of articles like "10 books you will love if you liked Squid game" and the recommendations are quite good in each one. It wouldn't be the worst idea to head to Bookriot whenever you're in a slump, unable to find a good book to read.
4. Facebook Communities
If joining a book club isn't your cup of tea and you want to choose the books yourself and read on your own terms, Facebook and other social platforms can be a great resource for book titles.
There are several Facebook groups you can join in order to find good books to read. Asking for help finding a book will generally result in a whole community of hundreds of thousands of members working together to provide you with whatever it is that you need. Whether it's a book title you can't remember or you simply need some advice on your next great read, social media communities are a great source of wisdom.
Here are some of the best Facebook communities you should join to always find good books to read:
5. Subreddits
Reddit is another great source of book recommendations if you know where to look. There are dozens of dedicated subreddits where heated discussions about books arise every couple of seconds. You can actually find more good books than you have time to read, but that should be the least of your concerns.
Redditors are generally even more active and dedicated than Facebook users, and that can only mean one thing: your chances of finding good books to read are huge. Whether you want to ask for a specific book recommendation or you just want to go through other members' posts to learn about new releases and what other members think about certain novels, you will definitely find what you are looking for.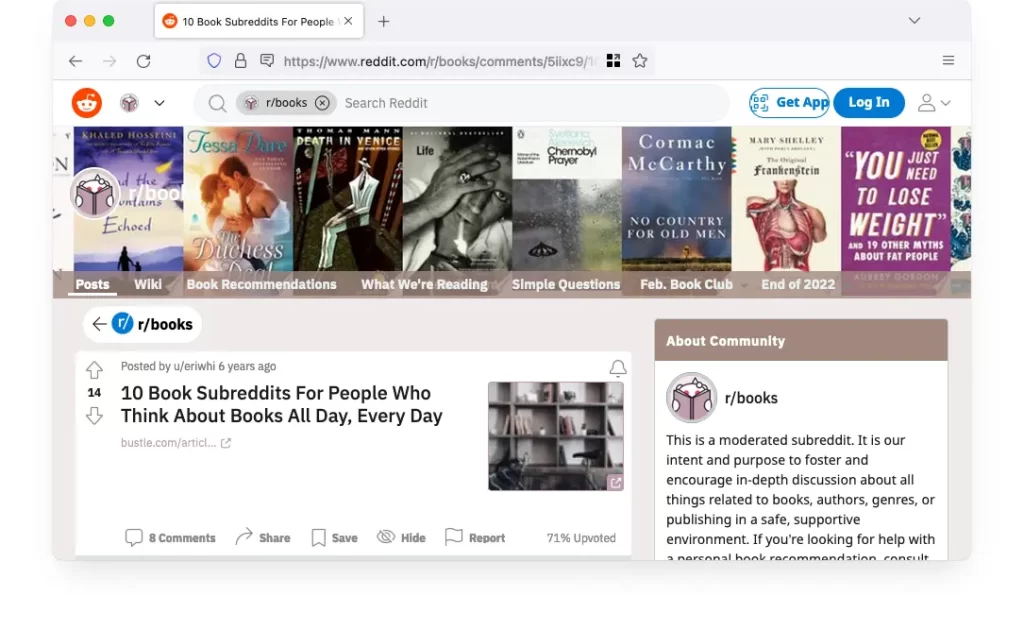 Here are some of the most active and helpful communities for book lovers on Reddit:
Granted, social media generally has a bad rep, and it's partially for a good reason. But when it's not used for wasting time, it can be a great tool for finding books to read. We all know already that the power of the community is impressive and if you learn to differentiate between the haters, trolls, and seriously helpful members, there's a lot for you to gain from being a part of one.
6. #Bookstagram, #Booktok, and BookTube
Even though we already explored the role of social media platforms in the process of finding a book to read to a certain extent, there are some different platforms that are worthy of our attention.
While Reddit and Facebook have a bunch of closed communities dedicated to book lovers, Instagram, TikTok, and Youtube take a different approach. All these platforms have pages, accounts, or channels dedicated to books and reading, and they are open to the general public. Anyone can start following any influencer they resonate with, which means that if you find a person who seems to recommend books you generally enjoy, you can always take their word for it whenever new novels make an appearance on their page or channel.
Here are the most appreciated and valued corners of Bookstagram:
If you are more of a video fan, here are the best BookTok channels you should follow:
The best BookTube channels we managed to find are:
Using any of these platforms to get some nice book suggestions will generally lead to surprisingly good results.
7. Join a Book Club
Book clubs have existed for centuries and there are many reasons for that. One of them is that they can be a great source of good book titles. Whether it's a traditional book club where the members meet face to face and discuss the books they read from a predetermined reading list or the online version of the club where the community only meets virtually, members have a series of benefits.
One of the most important ones is that the reading list is created by the club's leader and some of the oldest members, meaning that you won't have to worry about what to read. You read the book everyone in the club reads and most of the time, the books chosen are really good.
8. Follow a Book Club Led by a Celebrity or a Bookish Celebrity
Perhaps not at all surprisingly, many celebrities and other successful people are also avid readers. Not only that, but many of them have also made a commitment to use their notoriety and their power to influence people for the better, becoming strong and effective promoters of reading. There are several celebrities that stand out though. People like Oprah and Bill Gates certainly do know a thing or two about success and they are big literature fans, which means there are certainly some pretty awesome book suggestions coming your way if you decide to follow them and take their advice.
Joining a book club comes with several other advantages, but in the interest of providing you with the best ways to learn what you should be reading next, here are some of the biggest and most popular celebrity book clubs you can join.
Belletrist, run by Emma Roberts and Karah Preiss
ReesesBookClub – run by Reese Witherspoon
9. Bookish Podcasts
Your quest to find good books can be a tough one, but you should always keep in mind that we live in amazing times when information travels at the highest speed you can imagine. That being said, the era of podcasts, vlogs, and youtube channels can come with a series of amazing benefits to book lovers out there.
Learning how to find a good book to read can be as easy as understanding how important it is to listen to the right podcasts. Luckily, these days, you can probably find a dedicated podcast on any topic that crosses your mind. And books and reading are certainly no exception.
There are quite a lot of interesting podcasts dedicated to book lovers where you can not only get a chance to learn about the most interesting books ever written, but you can also gain quite a bit of other relevant information. Here are some pretty amazing podcasts you shouldn't miss:
10. Read Book Blogs
Since reading is generally a quite widespread hobby around the world, there are plenty of resources online for book lovers. While most of us get a little too wound up in platforms like Goodreads and WhichBook, the truth is that one of the most overlooked sources of good books to reads is a decent book blog.
There are tens of book blogs out there that are definitely worth your time exploring them and the great thing about them is that they are generally a personal project launched out of one individual's passion for books and reading. That being said, you know there are no tricks involved, no undisclosed paid sponsored recommendations, or other marketing stunts.
Another huge benefit of book blogs is that you have a good chance of finding one specifically dedicated to a tiny niche. If you have very particular taste when it comes to reading, chances are you will find a blog owned by someone with similar interests, and that can be an immensely valuable resource.
Without going too deep into the specific niches that might be targeted by book bloggers, here are some of the best blogs you should follow if you are looking for book recommendations.
Give Your Reading Experience
An Extra Boost With Basmo
Track the books you read, monitor the time you spend reading and keep notes on your reading habits and how it makes you feel. You can set yourself targets for the time you spend reading and you can get notified whenever you're behind on your reading time.
11. Take Online Quizzes
While most of us consider online quizzes to be infantile and fun at our best, they can turn out to be quite useful when it comes to choosing a book to read. Buzzfeed, Bookriot, and some others offer some seriously good quizzes for book lovers.
Maybe "What book should you read based on your zodiac sign" isn't the best resource for finding a good book to read, but there are many other quizzes you can take and there's a chance you will find some interesting titles.
12. Find To-Read Lists Online
Another option is to simply use Google to take you to some predefined reading lists. Many websites put their best minds into creating reading lists. The People magazine, for example, creates some pretty great reading lists. You will be able to find must-read lists based on genre, author, year, and many other particularities.
Some of them will be low-quality, populated with book titles just for the sake of creating a reading list for their users, but others can be extremely useful. The good news is that the action of searching and evaluating the quality of a reading list on several platforms isn't difficult or time-consuming.
13. Amazon's Book Lists
Without any shred of a doubt, Amazon is an amazing resource for book lovers out there. Not only is Amazon the creator of Kindle, but it is also an amazing place to buy physical books.
Every year, Amazon creates book lists according to their sales and provides you and any other reader out there with a great opportunity to explore the best-selling books in a huge variety of genres and categories.
14. Google Could Be Your Friend
Alternatively, feel free to also take advantage of the amazing resources Google can provide. A simple search after "best books about accounting" for example may return pretty great results.
Clearly, using search engines is not exclusively a solution for your professional reading needs. Feel free to use them whenever you're in the mood to search for reading lists, best book tops, and books on a certain theme or in a certain genre.
15. ChatGPT
As you probably already know, artificial intelligence has made quite a splash in recent months. Why not use the benefits of AI to improve your reading experience?
As you know, ChatGPT can have rather complex discussions with users, so just joining and telling the bot a little something about your reading preferences could be a great way to get some book recommendations. For example, if you tell ChatGPT what your top 5 favorite books are and ask him to generate a book list of another 10 titles that are similar to those you already like, chances are you will find out about some pretty awesome and sometimes surprising books.
16. Follow the Nobel Prize Winners
Another fool-proof strategy for choosing the right books to read is to check each year's nominees and winners of the Nobel Prize in Literature. The books and authors that are nominated each year are guaranteed to be top-quality works.
And lucky for you, you can of course check each year's nominees and winners, but you can also go back and check all the nominees and winners in the history of the Nobel prize. Spoiler alert, there are a couple of hundred books to read if you choose this path.
17. Go to a Bookstore
Even though we see them less and less these days, bookstores still exist and they are magical places, filled to the brim with content for book lovers of any age.
Not only will you be able to browse for hours between the aisles and check all the available titles in any genre or section, but you can also speak to the staff. And let's face it, nobody will choose to work in a bookstore unless they're a bookworm just like you.
Bookstore staff are usually passionate readers and will be able to recommend you many titles based on your preferences. On top of this, they know which books sell the most and that will give them an idea about the quality of certain titles even without reading them.
18. Ask Friends and Family
With the advances made by technology, the constant presence of the internet in our lives, and the plethora of online tools it provides us with, we tend to forget that there are also people around us who can help.
Don't hesitate to ask friends, family, or even coworkers "Hey, can you recommend a book based on what I like?". Chances are they know you well enough to be able to make better recommendations than any online tool or resource.
The human touch is irreplaceable in most aspects of our lives and book recommendations based on other books are no exception. The process of learning how to find a book to read is a lot easier for those who start it with their close ones.
19. Follow Industry Leaders or Iconic Thought Leaders
Reading is not only a great recreational and fun activity, but it can also be incredibly useful for everyone who wants to get insights of the industry they work in or those who want to learn new skills.
For those of you who don't only read for pleasure, it would be a good idea to follow your industry leaders and read what they read.
Reading about certain professional topics can help you become a lot more valuable for your industry so if you really want to advance in your career, you will want to be up to date with all your reading on the topic. Ask your colleagues and your boss about their recent reads about the industry you work in.
20. Discover Literary Gatherings and Form Bookish Friendships
Joining or even creating a book community can be an amazing experience. Whether it's a book club or simply a bunch of friends who share similar interests, the power of a community can be a great thing to factor in when it comes to finding the next book to read.
Literary gatherings can be a great place to go and discuss books and make friends who are equally passionate about books and reading, and they can also be a great resource for an avid reader.
The importance of bookish friendships should never be ignored. As you know, our entourage can not only say a lot about who we are, but it can change us. If you surround yourself with literature fans, chances are you are going to read more and you can also count on them to make you good book recommendations tailored to your specific preferences.
How to Enjoy a Good Book to the Maximum
Now that you have a plethora of options to learn how to find a book to read, what do you do when you find it to make the best of your reading experience?
Well, it's easy. You start using a reading tracker app to take your reading to the next level. Basmo for example is a feature-packed app, available on most mobile devices that comes as an amazing tool for book lovers.
Here's a couple of reasons why you should use it.
You Will Be More Thorough With Your Reading. The app allows you to take notes while reading, which will help you be more insightful and will help you remember more from what you read. Taking notes and annotating books are amazing tools for those of us who take reading seriously and like to write down our own thoughts about what we read.
You Will Always Have a Reading List at Hand. Basmo offers a reading lists feature which allows users to either populate some predefined book collections with titles of their choice, or to create personalized lists. You can create as many lists as you want, separate them by genre, topic or whatever you choose. You can easily populate any of the lists anytime you hear or find out about a new book you want to read. And the best news is that you will always have the list close by.
You Can Have More Fun Reading. Basmo can turn quotes from mere words to beautiful images you can immediately share on your social platform of your choice. Simply make a note while reading or scan the text you find interesting and use one of the many templates for creating the images, format the text as you please and share it with your friends!
Final Thoughts
Finding a good book to read can be a challenge, but with the right tools and the proper mindset, the results can be incredible. Using Basmo for all your reading will make every book special and will allow you to enjoy it even more.