What it takes to improve the reading experience and performance differs from one person to another. One of the things that all readers generally have in common is the fact that taking notes is a part of their reading sessions. Using Notion book notes templates can make this experience a lot better and can give your sessions and your reading habits a much needed boost.
Here at Basmo, given our dedication to making you the best reader you can be, we explored what Notion book notes templates have to offer, how you can use them efficiently, and more importantly, how to choose the right one for your needs. We found some of the best templates out there and we analyzed the way they can help you.
5 Best Notion Book Notes Templates
Using Notion for book notes can be a great way to improve your reading experience and go one step further than simply jotting down your thoughts with a pen and paper while reading. Choosing the right template can be a somewhat daunting experience because of the huge selection of options you can find out there.
Luckily, we went through a lot of the options available and found some of the best Notion templates for book notes so you don't have to.
This Notion reading notes template can be a great way to start taking notes in a more efficient and professional manner. It is completely free and can be downloaded by any Notion user. 
It is a simple, minimalistic approach to note-taking and is great for those of you who are looking for a no-nonsense option. It comes with the bare minimum in terms of functionalities, but that is not always a bad thing.
You can use it as a way to track your reading and you have all the freedom to customize it however you see fit. And of course, taking notes as you read is pretty simple and efficient.
Available for a modest price of just 15$, this template is a top choice among readers from all over the world. To be fair, this template is a lot more than just a note-taking tool. It is actually a reading-tracking Notion template with a built-in note-taking feature.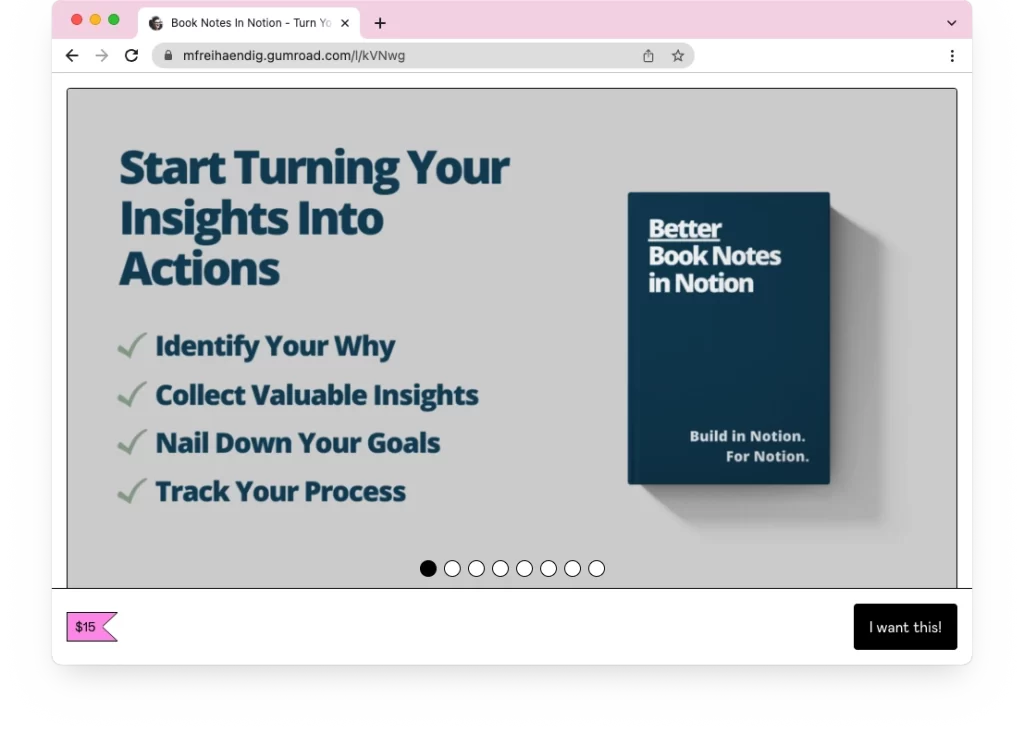 You can use it to organize your library, track your reading habits, use tags to keep your books in check, and keep your goals within reach with the progress tracker.
Of course, all that comes on top of the obvious feature that involves actually taking notes while reading and putting your thoughts into writing in a meaningful and organized manner.
Another free template that can be easily downloaded and used, this one is a great way to keep a reading log and analyze what you read.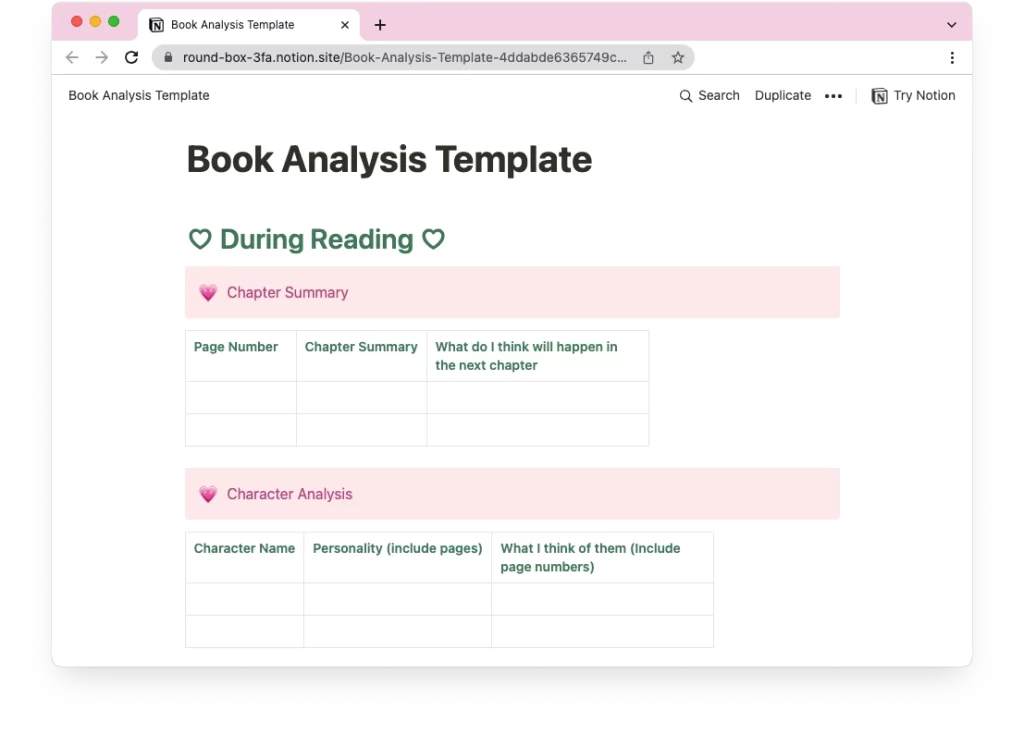 This template can be used both as a log and a way to take notes while reading, but also as a great action plan. It provides a structured approach to active reading and gives you the blueprint for a very efficient in-depth analysis of any reading material.
It can be a great choice for those of you who really want to put some effort into reading and gain a better understanding of any book that falls in your hands.
This Notion note-taking template is another rather complex version for reading enthusiasts. It can be acquired for free if you agree to subscribe to the creator's mailing list, or you can choose a price over 5$ you volunteer to pay for it.
This Notion book notes template is more than just a note-taking tool. It is actually a way to organize your book, maintain your library in order and organize your reading habits. While it is also a Notion book review template, it does come with more than enough features for those interested in just a simple way to track reading and take some notes.
Available for anything from $8 to $20 depending on your location, this is yet another complex template you can use for a wide range of purposes that play a role in your reading habits.
This can be a great tool that can help your efforts to become a better-organized reader and comes with a plethora of features designed to give you a much-needed boost.
Among the most notable features you should know are the reading lists that can be created and edited however you see fit, the fact that you can create your digital bookshelf to keep track of all your books, the progress tracker for meeting your goals, and, of course, the note-taking possibilities that matter so much to you.
What Is the Best Notion Book Notes Template Alternative?
Those of you who used a reading tracking app at least once, already know that they are miles ahead of the Notion templates for readers. Dedicated reading apps not only have better note taking features, built with today's reader in mind, but they come with additional features for those who love reading.
And for those who are looking to turn those "miles ahead" into light years ahead, there's Basmo, the best and most complete reading app out there. It is by far the best alternative for the Notion book notes template and it comes with a ton of other features users will simply fall in love with.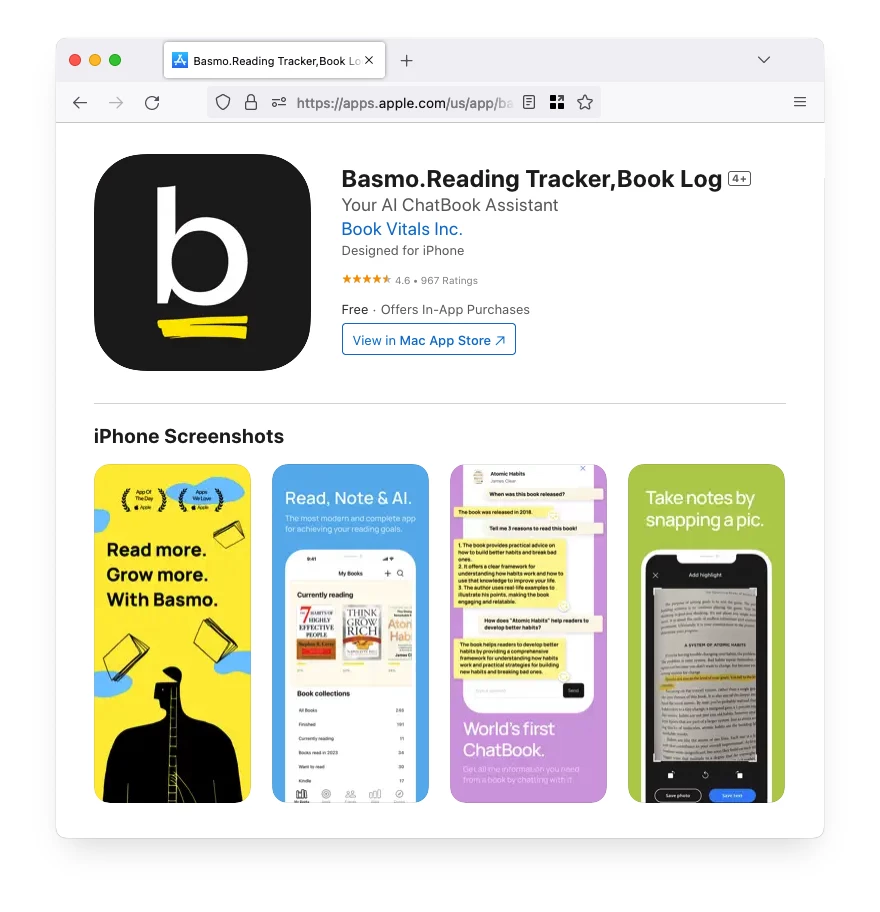 To get a better idea of how it feels to start using Basmo, try to remember a moment when you discovered a certain device that made your life so much easier that it left you wondering how you lived your life without it until then. Even though it usually isn't the same exact thing that impresses everyone, the effect is the same, and this is exactly the feeling you will get when using Basmo for the first time.
How Is Basmo Better Than the Notion Book Notes Template?
What makes Basmo so special? A great deal of things actually. First, let's see how the notes taking feature in Basmo is an improved version of its Notion equivalent.
1. It Is Very Easy to Use
Basmo's note taking feature is already included in the app as soon as you download it. There is no additional setup required, no dummy data needs to be removed before you actually get started, and you can literally start adding notes seconds after opening the app for the first time. The whole process is seamless, as the app is user friendly and you're very unlikely to ever require a tutorial for any of its features.
2. It's a Feature Within a Dedicated Reading App
Needless to say, many benefits come straight from the fact that Basmo is a dedicated reading app. This means everything was created with the reader in mind, including the note taking feature, and it shows.
3. Can Be Used While Reading Sessions Are Ongoing
To use the note taking feature from Basmo, you will need to start a reading session. That means you will need to look for the book you're reading with the dedicated search feature, which will browse through millions of books and will return the correct one within milliseconds. Each title already has the author and cover image uploaded, so all you have to do is tap on the image of the book you're reading and start the reading session.
While the reading session is ongoing, the note taking feature is automatically made available within the session, so as soon as you find a note-worthy piece of information in your reading material, you just pick up your smartphone or tablet and start typing.
The notes are automatically saved within the book and you can simply access them whenever you tap on that particular title in any of your predefined book collections (currently reading or finished).
4. Users Can Scan Pages and Save Quotes
We promised you amazing features for the modern reader, so here's one of them.
Basmo offers you the possibility not only to manually take notes, but to also use your phone's camera to scan the pages that you will need to make notes of. You can either scan the pages and save them as image notes, or you can extract the text from the image and save it, edit or format it as you see fit.
5. Notes Can Be Formatted and Organized Within the Books They Are Related To
Speaking of formatting and organizing your notes, Basmo offers you a bunch of options like using different colors and pretty much anything else that is needed for your notes to be easy to read and remember later.
So after finishing a book, if you ever need to go back and read your notes again, all you have to do is tap on the book from the reading list it is automatically assigned to, according to its status, and your notes will be there waiting.
6. Voice-To-Text Notes
Basmo also offers you the possibility to skip the typing altogether. You can use the voice-to-text feature to simply speak into your device's microphone and Basmo will transform your spoken words into written text. It's like an improved tape recorder which allows you to record your thoughts or observations and saves them as written notes in the Basmo app, within the book they are related to.
This way, you no longer have to type your notes, making the process a whole lot faster and more convenient.
7. Basmo Allows You to Save Pages From Your Books as Images
By using your phone's camera, you can simply take pictures of the pages you find most interesting in the books you read, and save them as visual notes within the book in the Basmo app.
This is especially helpful if you want to save diagrams, tables or graphs from the books you're reading and it makes it a lot easier to keep this kind of visual information at hand. 
8. Basmo Allows You to Create Your Own Quotes
If you want to manually write down a nice paragraph or sentence from the novel you're reading and save it as a quote, you can easily do so with the quote editor from the Basmo app.
Once you're finished typing the text into a note, you can use the quote editor to format the text as you see fit or even turn it into an image and share it on your preferred social media platform.
9. Basmo Comes With Additional Features to Make Your Reading Experience Better
The notes feature is actually just the tip of the iceberg when it comes to the ways Basmo can take your reading to another level. There are many other features under the hood, and these are the ones that most users have ended up falling in love with:
Scheduling: Basmo allows you to create your personalized reading schedule, tailored for your daily routine. You can select the days of the weeks you plan to read in and even different times for each day. Basmo will also remind you of any upcoming reading sessions through notifications, so you don't forget.
Goal setting: Any life coach or motivational speaker will tell you that the first step you need to take in order to achieve your goals is to actually set those goals. And since reading more is a common resolution for any responsible adult, Basmo allows you to set daily or yearly goals for your reading and helps you achieve them by tracking your progress and providing you with insightful statistics about your reading habits.
Reading lists: Knowing what to read next is oftentimes quite a challenge. Not anymore. Use the reading lists in Basmo and populate them with the titles you are interested in. You can choose to use the predefined book collections or to create your own, personalized reading lists. 
Conclusion
While we're not suggesting that the Notion book notes template is bad, we're here to tell you that you can do a lot better. Notion is a fine option from many points of view and is clearly a great solution for what it was initially created for. As a productivity or management tool, it's ahead of many of its competitors.
When it comes to its application for reading though, it is no match to a dedicated reading app. And with Basmo offering so much more than just note taking, even compared to other reading apps, there's no reason why you shouldn't give it a try.