We all know that part of being a successful reader has a lot to do with how well we manage to organize our reading habits. Whether we read for pleasure or because we need to learn, being organized is absolutely essential in order to optimize our time spent reading.
While some still use the pen and paper method of creating our reading lists, others have proven that technology has provided us with other ways, like a book tracking spreadsheet, and they can be more effective.
Book tracking spreadsheets have been a very popular method of keeping track of the books we read for many years now. So, let's make sure we have a good understanding of this concept and how it can help our reading habits.
What Is a Book Tracker Spreadsheet?
A book reading spreadsheet is one of the many book organizing techniques at our disposal, which involves, as the name suggests, a spreadsheet where all the relevant information about the reading habits are being entered.
Most of today's readers who choose to use a book tracking spreadsheet opt for predefined spreadsheet templates. They usually consist of several tabs containing a reading list, and a whole bunch of formulas to help you track your reading time and all kinds of other nifty stats.
What Are the Best Book Tracking Spreadsheet Templates?
Regardless of whether you choose to use a predefined template, create your own or mix the two together, it's essential to know what we think the best book tracking spreadsheets are.
Whether you use them as they are or as starting points for creating your own, these are the ones we were most impressed with:
One of the most appreciated and praised reading tracker templates is the one created by Addicted to Romance. While the website is dedicated to those who especially appreciate romance novels, the tracker template is perfect for all book genres.
On the other side of the spectrum, we have the creation of Reader Voracious, which is intimidating to say the least at first glance. With a desire to allow users to track all their reading (including blog posts even), this spreadsheet template will take some getting used to before it can be truly appreciated for its complexity and the great deal of data it can provide.
By Smart Bitches, Trashy Books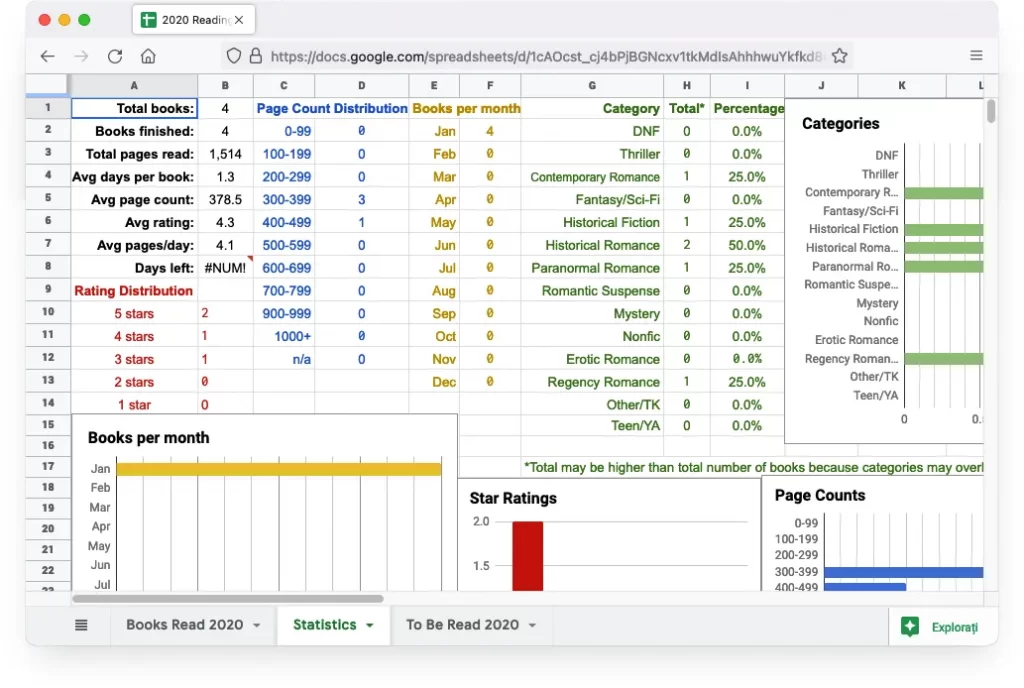 One of the most simplistic ones on our list, the reading tracker spreadsheet template from Smart Bitches, Trashy Books is perfect for those who don't want to overcomplicate things.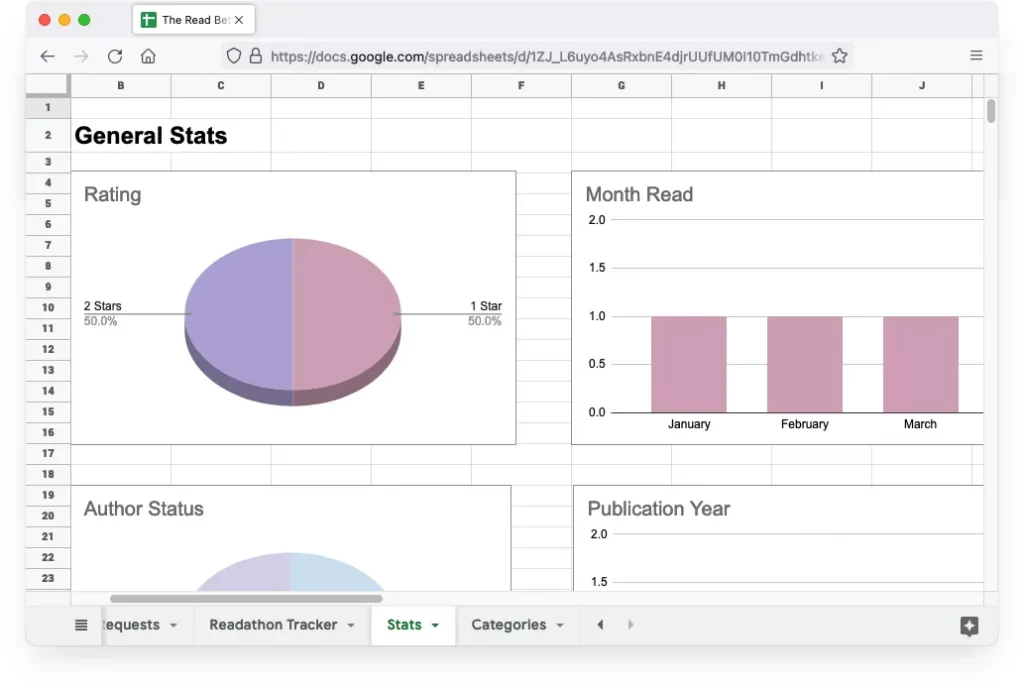 Another reading tracker, created by the Your Words My Ink platform also comes to aid the reading needs of those who want to be organized and keep their reading lists and reading habits under control. With a multitude of features, the Read Better Reading Tracker is true to its statement: it will take its users' reading habits to a new level.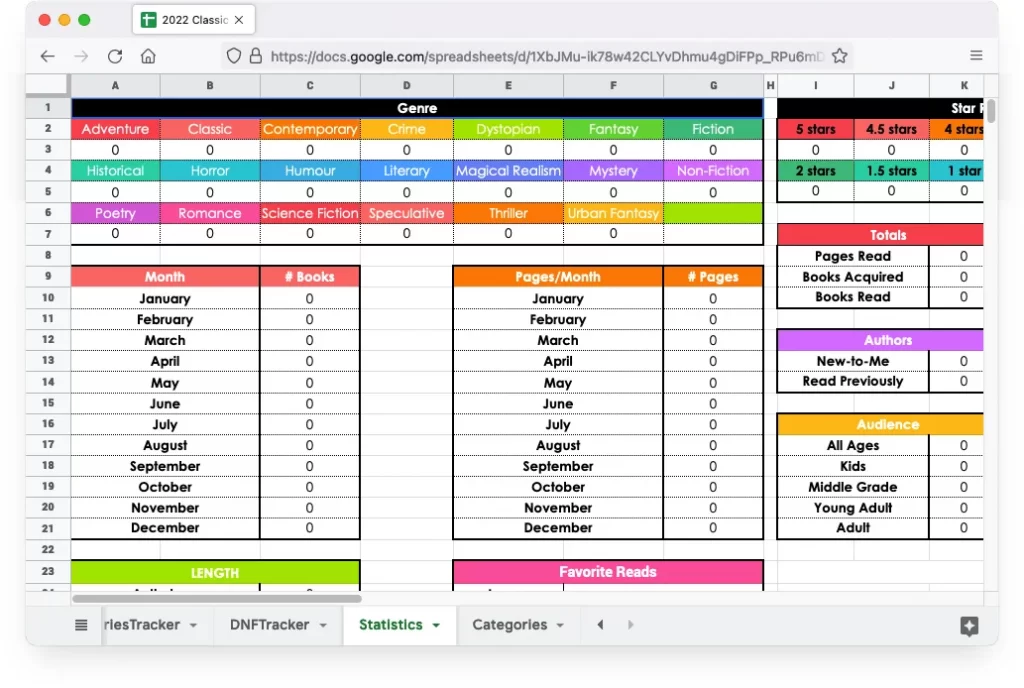 Another one of the best spreadsheet templates comes from Noveltea Corner and it is as complex as you would expect. It can help you track your books by genre, subgenre and a multitude of other characteristics.
By Crini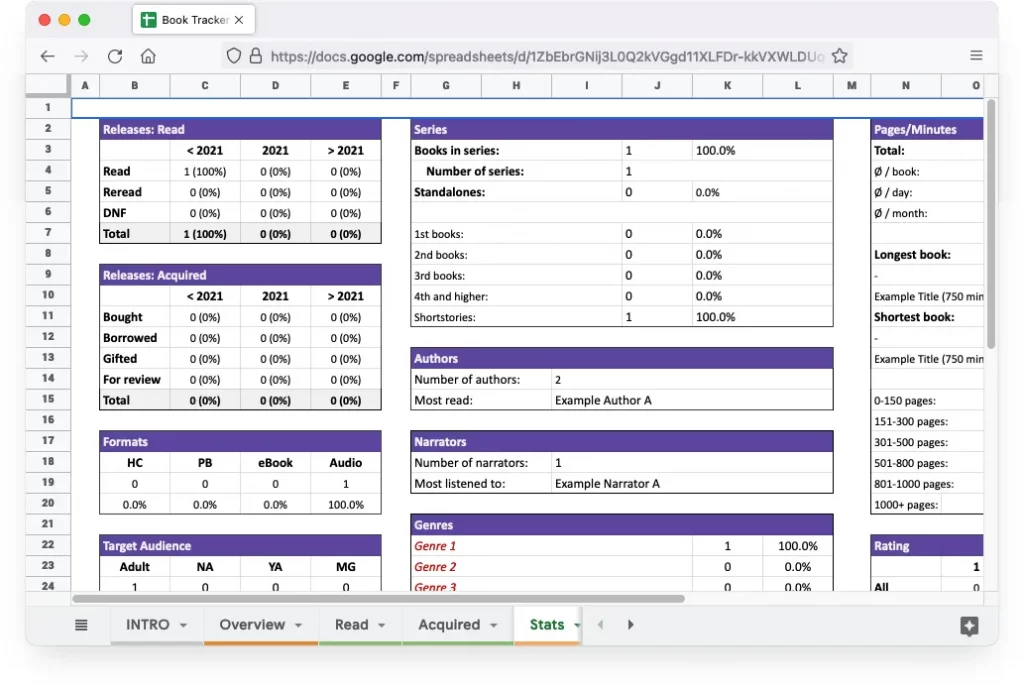 This particular book spreadsheet template created by Crini stood the test of time, having been around for more than 6 years. While it has been slightly modified over the years, the most important aspects have remained the same: it is a great choice for anyone who wants their reading habits to be properly tracked.
As you can see, while some are overwhelmingly complex, others are rather simplistic. It is up to you to go through them and choose whatever you feel would work best for you.
Book Tracking Spreadsheets vs Reading Tracking Apps (Like Basmo)
As great as book tracking spreadsheets may seem, it's important to know that they are no match to a dedicated reading tracker app. While they do pretty much the same thing in the end, there are a lot of reasons why reading apps like Basmo are actually much better than even the most advanced book tracking spreadsheet.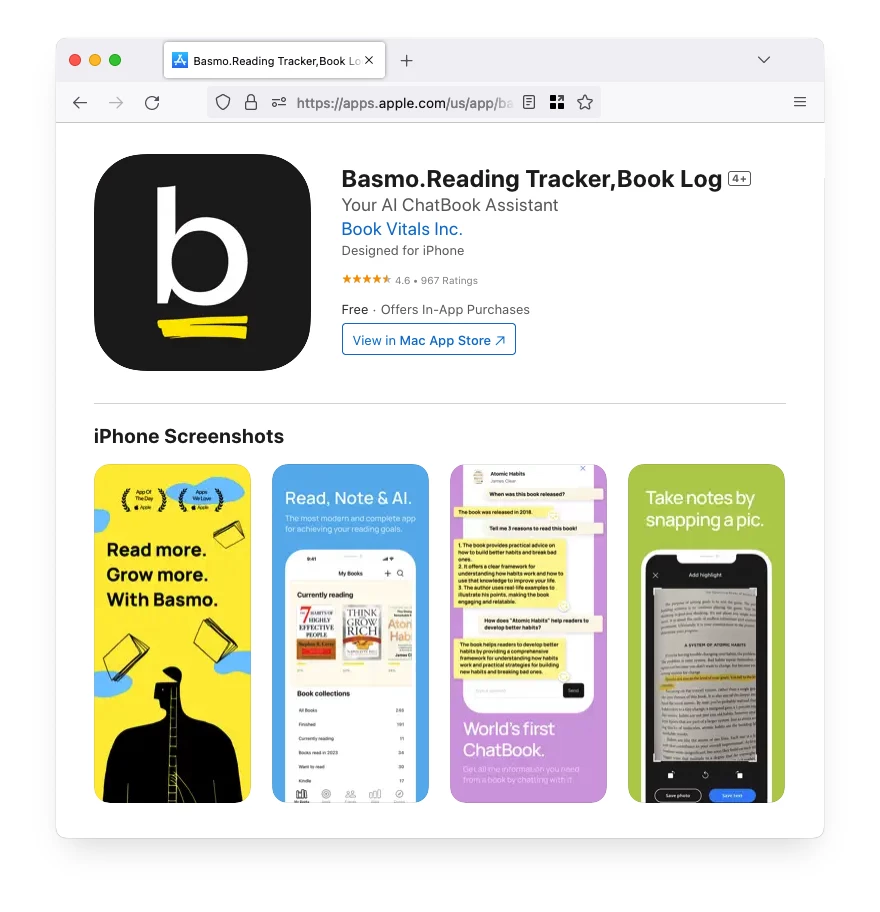 Here's why Basmo (or most other reading apps actually) is better than a book tracking spreadsheet.
Ease of Use
Basmo requires little to no configuration before the first use. All you need to do is download the app from the Apple Store or the Google Play Store and once it's installed on your device, you can start using it immediately.
No Dummy Data to Remove, No Manual Work Required
Another great thing about reading apps in general and Basmo, in particular, is that there is no need to remove any dummy data before you can start adding your own. The app comes completely clean and can be used within seconds after the download has finished.
On top of this, while book tracking spreadsheets require you to manually input a lot of data, both about the books you are reading and your own individual reading sessions, Basmo does all this for you.
For example, in order to track your reading time, all you need to do is start a reading session from the app and Basmo will start a timer that will run until you stop it. The number of pages read will be estimated based on the time in your reading session and it can be manually adjusted to match the reality.
Book titles are already available in our library so adding one to the reading list only means that you have to search for it and tap once to add it to the list. No need to manually type the author's name, the genre or publishing year, all this info is already available.
Additional Features
Basmo comes with a lot of additional features when used as an alternative to book tracking spreadsheets.
For example, Basmo can be used to set a reading schedule.
You can select the days of the week you want to read in, the time of day when you want your reading session to take place and you will even get a reminder on your phone about them so you never miss out on your reading sessions.
On top of this, Basmo allows you to take notes while reading sessions are ongoing, in a very convenient way.
Additionally, the app can be used to scan book pages and extract the text as notes. This can help you save the quotes you love or parts of the text you think you will want to re-read later.
Not only that, but Basmo will allow you to set reading goals and track your progress towards meeting them through interesting and comprehensive statistics.
Accessibility
While reading spreadsheets from your Google Drive can be accessed from any device, including your smartphone, editing it can be extremely difficult if you don't do it from a laptop or desktop.
If you prefer using your phone or tablet rather than a laptop or PC, you will find that reading apps are much more effective. Reading apps are specially designed to work seamlessly and to be very easy to use on any mobile device.
This makes Basmo a much better choice for your reading needs than any book tracking spreadsheet because you can easily use all its functions from any mobile device.
Give Your Reading Experience
An Extra Boost With Basmo
Track the books you read, monitor the time you spend reading and keep notes on your reading habits and how it makes you feel. You can set yourself targets for the time you spend reading and you can get notified whenever you're behind on your reading time.
What Stats to Track in a Book Tracker Spreadsheet?
Speaking of nifty stats you can expect to be able to keep an eye on in a reading tracker spreadsheet, let's have a quick look at some of the most important information you will be able to actually track with one.
Reading List
First of all and perhaps most importantly, a book reading spreadsheet acts as a reading list. Most templates you will find online and even if you will opt to create your own, this is the very first thing you will see when you open the spreadsheet.
All seasoned readers will agree that having a reading list is essential in order to optimize your habits and make the best of your free time.
Time Spent Reading
Another statistic that is essential for a book tracking spreadsheet is the time you spend reading. The tracking needs to be done based on the information you input manually.
You will need to enter manually the number of minutes from each reading session and in the end, you will have pretty nice stats about the time you spent reading a certain book or a certain genre or even the total time you spent with a book in your hand throughout a read.
Books Read per Week/Month/Year
By using simple formulas, the spreadsheet will also allow you to count the number of books you read in a specific time frame. This will also be done based on the information you will have to enter manually regarding your progress with each book. As soon as you mark a book as finished, it will be counted towards the weekly, monthly or yearly total.
Number of Pages Read
As you would probably imagine, the number of pages you read can also be rather easily tracked with a reading spreadsheet. Similar to the way your books are counted, the pages are also added up after each reading session based on the data you enter manually in the dedicated sheet.
Genre Split
An interesting feature of the book tracking spreadsheets, or at least of the good ones, is the possibility of having an overview of the book genres you read. By marking each book with the correct genre, the spreadsheet can generate cool pie charts showing how your reading is split between genres.
Create Your Own Book Tracker Spreadsheet From Scratch or Use an Existing Template?
Now that you have an overview of the data you can gather from a book tracking spreadsheet about your reading, you're probably wondering where you can get one or how you can create one.
Here's a couple of important pieces of information to help you make an informed decision.
Why Would You Choose to Create Your Own Template?
If you're anything like me and prone to try and do things yourself in general, the first impulse would be to do the same with the book tracker spreadsheet. There are several benefits of doing it yourself.
First, nobody knows better than you what you plan to use the spreadsheet for and what information you are most interested in. Maybe you don't care about the time you spend reading and only care about the number of books you read.
Depending on how experienced you are with using spreadsheets, you can create your own personalized version, which works best for you, your reading habits and to provide you with the exact data you are interested in.
Creating your own template can only bring a sense of pride, but can also mean that you waste no time removing dummy data from a predefined template and can help you optimize your reading and organization level to the maximum.
Why Would You Use a Predefined Template?
Using a predefined book tracking spreadsheet template comes with a series of advantages as well, one of them being that you get your work cut out for you.
There is no need to learn how to use formulas, create pivot tables or pie charts (in case you don't know already), because these are already added to the template and all that is left for you to do is to remove the dummy data and add your own.
Another thing that might seem like a good reason to use the predefined template is that many of those you will find online will provide you with many stats you probably wouldn't even think about on your own.
Finding the Balance
While both options above come with their own lists of benefits and drawbacks, the key is usually finding a balance between a template and some DIY work.
If you have decent knowledge about how spreadsheets work and how to use formulas and other features, probably the best way of finding your perfect book tracking spreadsheet is finding a template and then adjusting it to your taste.
You can remove any data you find useless, simplify or complicate the sheet as much as you like until you reach the format that is absolutely perfect for you.
How to use a book tracker spreadsheet template?
Learning how to use them will be as rewarding as you expect though. So, let's see the quickest way to learn how to use them.
1. Read the Provided Instructions
The more complex and professional templates come with a set of instructions on how to use them. This is the very first thing you should do whenever you decide to start using a certain book tracking spreadsheet template.
2. Make a Copy of the Spreadsheet
The second thing you need to do is copy the spreadsheet template into your own Google Drive.
From the template, if you use Google Spreadsheets, you just need to go to File and click on Make a Copy. For other similar tools, the process involves downloading the spreadsheet and editing it in your tool of choice.
3. Remove Dummy Data
Once you've copied the spreadsheet, the next thing you need to do is remove the dummy data it is filled in with. The role of this dummy data is to show you what it will look like once it's filled in, to give you an idea about the characteristics it has and the stats you will be able to track using it.
This is important to do in order to get accurate information once you start filling it in with your own data.
4. Adjust the Template to Your Preference
If you want to make any changes to the template, this is the time to do them. Adjust formulas, remove stats you are not interested in or add extra features if you are skilled enough in using spreadsheets.
5. Add Your Own Information
The last step is to start populating the spreadsheet with your own information. Add a couple of book titles and all the required information about them, like genre, publishing year, author, etc.
Start a reading session, record the number of pages you read, the time you spend reading and play around with the spreadsheet to better learn how it works.
Conclusion
As much as we love a good reading tracker spreadsheet and even though we fully appreciate the work that is being put into them by spreadsheets experts who also allow us to use their work free of charge, they simply cannot match the convenience and the number of features reading apps like Basmo provide the modern readers with.